Fixposition Enables Ultra-Precise Navigation for Robots
By Rohit Sharma, December 19, 2019
At True, so much of what we do is about people. We seek to fund driven founders with big, meaningful ideas; unique personalities with incredible backgrounds that align deeply with the problems they're solving. 
We saw these qualities exemplified in Fixposition Co-founders Zhenzhong Su and Lukas Meier. Toni Schneider, who is on the board of True-backed Piavita with Fixposition chairman Daniel Ammann, led us to meet with the Fixposition team in Zürich earlier this year. Since that first meeting, it was clear to us that Su and Meier have an incredible command of some of the toughest challenges today in precise positioning systems for UAVs and ground robotics. 
By integrating computer vision and custom software for GNSS/GPS sensors, Fixposition helps autonomous robots navigate diverse and challenging environments. Interruptive weather, buildings, tree cover, and people can all create dynamic challenges for autonomous robots like Avidbots' floor-cleaning Neo, Bear Flag Robotics' autonomous tractor technology, and Diligent Robotics' hospital-assistant robot Moxi. Fixposition's technology helps to ensure commercial and industrial robots like these can traverse a variety of environments with ease and accuracy. 
"We see navigation for autonomous robotics as a global, long-term opportunity anchored by safety," said Meier. "This problem needs to be solved before more people all over the world can bring self-driving technology or autonomous robots into daily life." 
Su describes himself as a scientist with an entrepreneurial mindset. When he was a kid, his uncle gifted him a toy space shuttle, igniting his fascination with space travel and technology. When his mother asked what type of space shuttle he'd design if he could create anything, he drew an imaginative hybrid vehicle that could drive on roads, fly straight into the sky, and dive deep underwater. "Maybe that's why I ended up studying satellite navigation systems," said Su. 
Today, Su is the winner of multiple prizes from the European Space Agency for his work with satellite navigation. He was also named a Digital Shaper for 2019 by Swiss business magazine Bilanz and included in Venturelab's 2018 Venture Leaders China list.
Meier's early years also influenced his passion as a maker and inventor. "In elementary school, my friends and I were obsessed with the performance of machines and vehicles like tractors, supercars, fighter jets, and rockets," he shared. "My father visited the Kennedy Space Center and brought back a book about experimental jet planes and rockets. I dreamt of becoming a pilot or astronaut." 
Meier's grandfather had a small workshop and instilled in him a mindset that you can do, build, and fix anything — if you're curious. "Choosing mechanical engineering was a no-brainer for me," said Meier. He holds a master's degree in mechanical engineering with a focus on robotics and computer vision, which he believes are a perfect merging of his areas of interest. 
Su and Meier's work as ETH Pioneer Fellows alongside their colleague Tonio Gsell and Fixposition advisor Lorenz Meier builds upon the deep insights and research forged across navigation, robotics, drones, and control systems at ETH Zürich.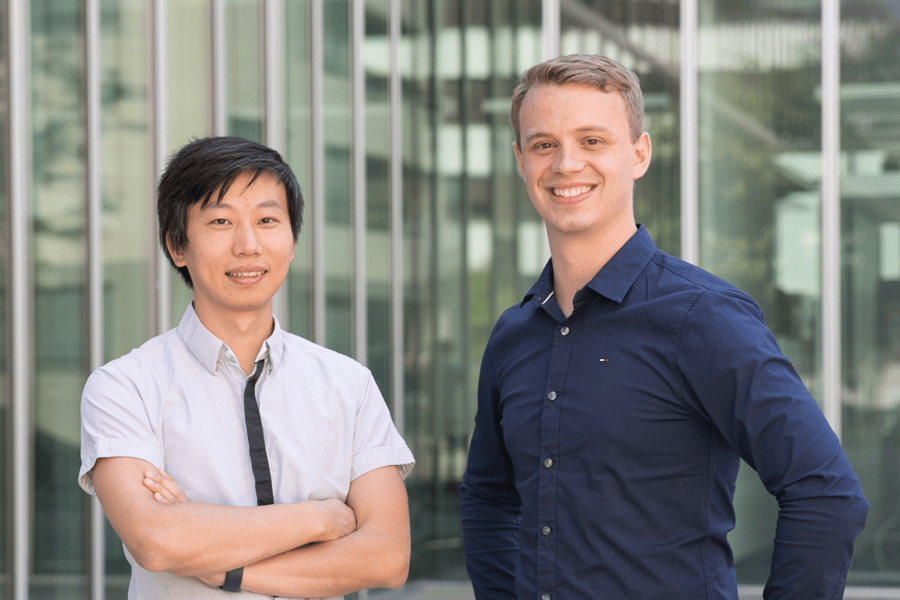 Zhenzhong Su and Lukas Meier, co-founders of Fixposition. Photo credit: Jasmin Frei. 
As a team, Su and Meier complement one another in terms of both background and leadership style. "We really like how we fit together," said Su. "I'm sort of the guy running everything at a very fast pace, sometimes too fast, and Lukas is the other way around." 
"Yeah, it's true," added Meier. "With Swiss people, if they ship something, they want to make sure it's a very good move. And most of the time with startups, they want to ship fast and get feedback fast. Zhenzong and I are a good fit because of that balance." 
The company is currently looking to grow its teams in Switzerland and China so they can expand Fixposition's product portfolio and rapidly enter the global market. "We're the first ones to realize and prove the concept of enhanced computer vision-based GNSS/GPS that's accurate down to the centimeter," said Su. 
"Independent from the technology and company we're creating, our mindset is to push the boundaries," added Meier. If you're interested in joining this interdisciplinary team of robotics and computer vision experts, learn more here. Or read more about the company in StartupTicker.