The Bay Area Org Reclaiming Storefronts in the Name of Community
By Christiaan Vorkink, October 4, 2023
Sarah Kirnon and Miles Dotson, co-founders of Sanctuary for Sustainable Artistry, have a new vision for revitalizing urban centers in the name of small businesses and the cultural essence they embody for communities. 
Sanctuary opened the doors to its first Micro Market in Oakland, California, in January, and opened a second a few blocks away at 1955 Broadway a few weeks ago. These spaces each house eight locally owned micro-businesses that might not otherwise be able to afford commercial storefronts due to rising costs. 
A locally owned beauty brand, clothing company, and maker of artisanal goods are among the business owners who share the space at 10th Street and Broadway in Old Oakland in a business district that's seen its run of short-lived storefronts open and close through the years when those businesses attempt to tackle cost on their own. 
"Compact retail is a key to countering gentrification and remaking our cities so they can be affordable to all residents," said Miles in a press statement upon opening the Micro Market. "This type of density is not only a design advantage but serves as a financial instrument to reduce the barrier of entry for merchants who represent the vibrancy of local culture." 
The work comes at a time when crime in the San Francisco Bay Area is on the rise and large companies and retail fixtures, like SF's downtown Westfield Mall, pivot among vacancies.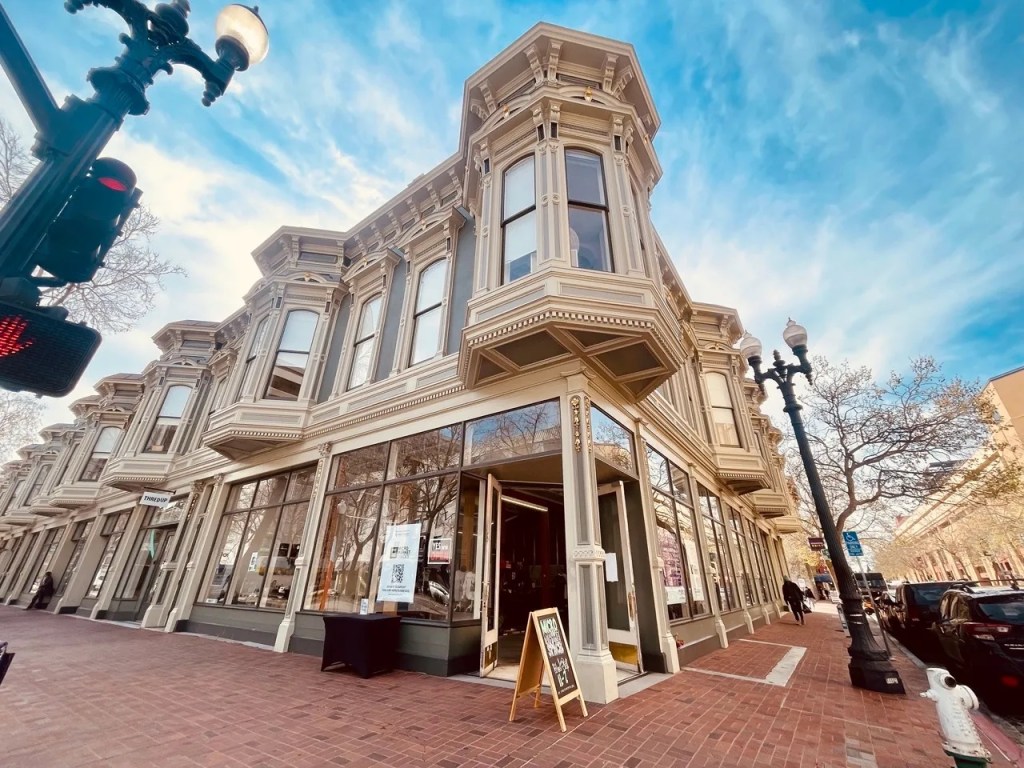 So, is it possible to cultivate thriving, diverse communities that both honor its residents and neighborhood history while providing economic growth opportunities for all? For Sarah and Miles, the answer to this question is clear yes. How? By saving and protecting space for small, locally owned businesses. 
The changes Sarah and Miles have lived through typically hit a neighborhood's creatives first, they say: artists, entertainers, and chefs who have taken to communities where spaces are still affordable and available.
Sarah knows this journey well; she's the former owner and operator of Miss Ollie's, an award-winning Afro-Caribbean restaurant in Old Oakland. For more than a decade, Miss Ollie's was not only a mainstay of the city's dining scene but also a gathering place for Oakland's Black, brown and queer communities. Often credited with helping to make Oakland a destination food city, Sarah is a passionate advocate for Black restaurateurs and creators.
Without these cultural hallmarks, a neighborhood can lose its soul. So Sarah and Miles created Sanctuary to highlight the creativity and vibrance of Black cultural traditions and to ensure that the Black creators who exemplify them can continue to do so in a nurturing environment.
"The artist, economically, is not viewed in the way that they should be," said Miles. "There are certain approaches or solutions that can help unearth them in a different way, and also provide a significant impact to the communities they support." 
Sarah and Miles have a three-part plan through which Sanctuary can achieve its mission:
First, they want to take advantage of high retail vacancies in cities like Oakland and encourage property owners and developers to increase utilization of this available space, at a lower cost. This will not only contribute to a more vibrant retail corridor in the neighborhoods being redeveloped but also improve food security so that no business owner will ever have to choose between paying their rent and feeding their family.
At left: Oakland Councilperson for District 3 Carol Fife, At right: Nina Robinson of Runway Family and HiiiWAV Board Member
Second, they intend to track and monitor how first-floor retail spaces and available land parcels are utilized and how vacancies are filled, to expose a lack of protection for businesses that are priced out of their neighborhoods and encourage transparency.
Finally, the Sanctuary team has developed "micro-design templates for adaptive use" meant to help property owners re-envision how their spaces can be used to improve access for artists and creators with their own small businesses while driving foot traffic into neighborhoods that have become scarce of community feel.  
"As a Black woman living in the Bay Area, it is my duty and the duty of Sanctuary to preserve culture, community, and artistry," said Sarah. "We've seen how our counterparts thrive in the Bay with entrepreneurship, so it's our mission to bring entrepreneurship back to our community and build us back to the power that we know we have." 
Sanctuary for Sustainable Artistry is supported by Trueventures.org, our initiative designed to generate social return. Sarah and Miles believe so passionately in their mission and we look forward to seeing (and tasting) what they and the Sanctuary creators do next.