Marketplaces That Empower: Pepperlane Helps Moms Launch Businesses
By Ann Crady Weiss, May 15, 2019
When we think of what makes an online marketplace thrive, a few things come to mind. For a transaction-driven website to transform into a lively, engaging destination where communities can flourish, a few attributes are usually at play.
Foremost, unique, high-value content must be served at the right time to the right people. It's the magnet to the marketplace. Secondly, there's usually an element of identity. This often takes shape as features which allow customers or organizations to build their own profiles and engage with other community members. Lastly, there is deep value available for both sellers and buyers. The deeper the value exchange, the more opportunities there are for building and selling additional software offerings to participants on both sides of the marketplace.
Early pioneers of this model in the True portfolio include Automattic (maker of WordPress), Splice (a platform for music creators), and Teachers Pay Teachers (a marketplace for original teaching resources). All of these companies have created thriving communities by fostering connection and serving up valuable content and services that are difficult to find elsewhere. This has led to fantastic long-term enterprise value, strong brand loyalty, and, most importantly, empowered communities.
We recently announced our investment in another SaaS-enabled marketplace. Pepperlane provides moms with the tools and training they need to build successful businesses from home. Business services include meal preparation, home organization, party planning, tutoring, and more.
The company layers tools, education, and community on top of a marketplace designed to help its participants achieve their specific goals. It leverages the diverse skill sets mothers pick up as they parent, but it also helps working mothers who are looking to "Hire a Mom" to help with household tasks and projects.
We were introduced to Pepperlane Co-founders Sharon Kan, Gail Goodman, Jess Petersen, and Kate Keough through Dave Balter, co-founder of True portfolio company Flipside Crypto. Our best source of new investments comes from our existing founder relationships and this was another great example of that belief in practice.
Sharon, Gail, Jess, and Kate started Pepperlane after hearing the stories of hundreds of women who all wanted to earn money in a way that actually fit into their lives. So far, an impressive 88 percent of the platform's growth has been through word of mouth, demonstrating to us the power of the marketplace this complementary team has built to date.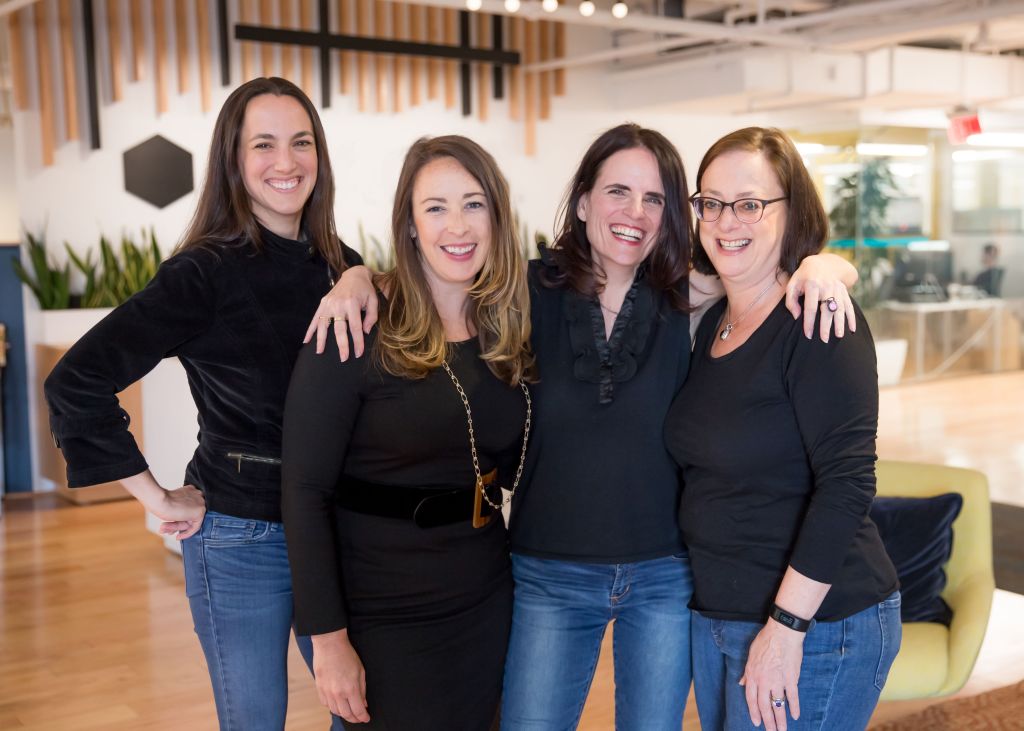 Pepperlane Co-founders Jess Petersen, Kate Keough, Sharon Kan, and Gail Goodman pose in their Boston, Massachusetts, office.
One of the intangible qualities of this business, which stood out to us above all else, is the trust that's been fostered between the community of mom-business owners on Pepperlane. There's this inherent sense of encouragement and support that felt very in line with our values at True. We really believe that creativity comes to life when people are supported fully and that anyone with drive and a willingness to learn can prosper when armed with the right tools.
As the founder of a company focused on empowering parents, I also appreciated that several of the members of Pepperlane's co-founding team are moms who know firsthand what their customers need.
Sharon is a serial entrepreneur whose last startup was acquired by Barnes & Noble. Most recently, she was an entrepreneur in residence at Accomplice. She's also the proud mom of her daughters Leia and Siena.
Gail is perhaps best known for her 17 years of CEO experience at Constant Contact. She led the company from its early pre-revenue days to $375 million in revenue, an IPO, and eventual acquisition.
Jess brings ample hands-on experience in product and user experience. She was the sixth employee at software company Carbonite and the first vice president of product at travel booking platform Hopper. She's the mom of two toddlers, Natalie and Ben.
Kate completes the co-founder mix with her vast experience in growth and marketing. In her prior role as chief operating officer of Paint Nite, she played a lead hand in driving the craze of social painting parties across 80 cities in her first year with the company to now hundreds of cities, spanning four countries.
As marketplaces continue to evolve into complex playgrounds for hungry, niche communities, we can't wait to see how the Pepperlane team leverages this model to the benefit of moms across the country. For more information, watch this video about Pepperlane Pathway, a business training plan for the site's small business owners.