Brad Olson Shares How Peloton Cultivates Emotional Loyalty
By True Ventures, July 27, 2017
Having recently completed our seventh True University, a two-day, annual event designed to foster collaboration and education among our community of startup Founders and their teams, we're now sharing session highlights.
Peloton's SVP of Member Experience, Brad Olson, gave us a window into how the revolutionary fitness and technology brand has been able to cultivate contagious customer loyalty by being emotionally in tune with Peloton members and their needs. Prior to Peloton, Brad led strategy and global operations for Starwood Preferred Guest, Starwood Hotels' loyalty program. Big thanks to Brad for sharing his thoughts below!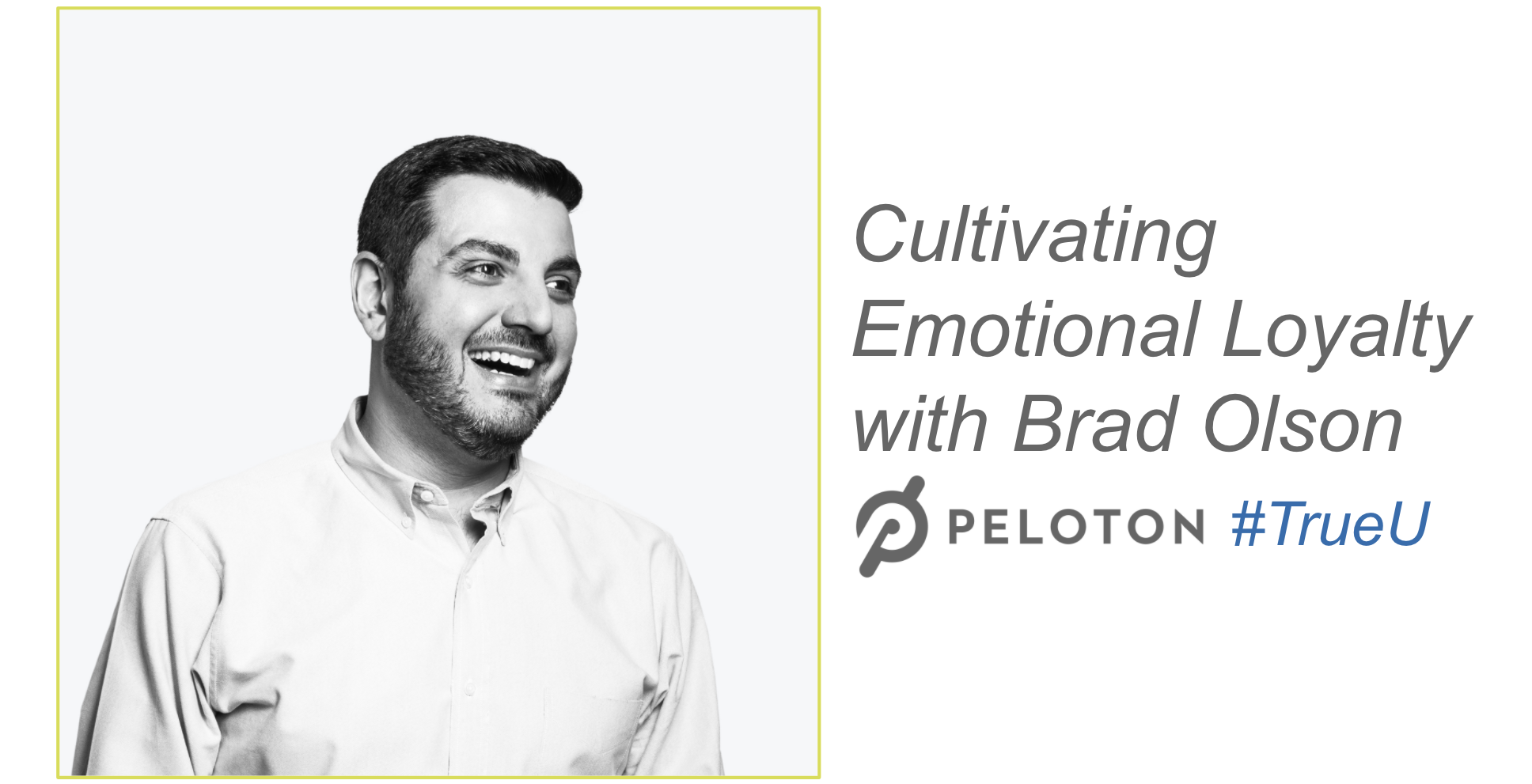 Loyalty is a universal aspiration. We all want loyal, reciprocal relationships where the other party has our back. In relationships with friends, family, and colleagues, this often comes naturally; our marriages and friendships don't reset on the first of each year. But fostering emotional loyalty with customers is often far more challenging.
Many brands – particularly those in the travel industry – default to points-based reward programs for building customer loyalty. But studies have shown that there is not necessarily a correlation between how rewarding a loyalty program is (measured by return on spend) and the resulting consumer behavior. So what is the 'X factor' that drives long-term loyalty?
At Peloton, we made a conscious decision not to offer a rewards program because we felt it risked cheapening the authentic relationship we have with our community. Instead, we aim to cultivate emotional loyalty by listening closely to members, making every interaction personal, and 'surprising and delighting' them at key moments of truth in the member journey.
As a result, Peloton has earned a net promoter score (NPS) of 91, which is higher than even Apple and Netflix. Not only does this brand loyalty translate to very high retention rates, but it also makes word of mouth a powerful acquisition tool for us: 26 percent of our current members first learned about Peloton from a friend or family member.
So how do you cultivate emotional loyalty? Here are a few tips for making it happen.
1. Encourage good behaviors early on.
Not surprisingly, the open rate for Peloton onboarding emails is highest at the beginning of our welcome series. To capitalize on this initial surge of interest, we changed our first two emails to encourage those behaviors most correlated with long-term engagement and retention (i.e., joining our Facebook community and installing the Peloton iOS app). Lesson learned? Don't squander early-opportunity emails since that's often when you have the most attention from your members or customers.
2. Go where your members go.
Instead of asking members to engage with us on our terms (i.e., on our owned channels), we join communities created organically by our members and help to moderate where we can. The best example of this is a closed group on Facebook formed by a few early bike owners. Today, the Official Peloton Rider Page has become an incredibly valuable platform where we engage daily with over 38,000 of our most engaged members.
On this rider page, our members indicated tremendous demand to have access to Peloton bikes in hotels. Our research indicated that our members stayed most often at Westin Hotels & Resorts (not surprising given their focus on wellness), so we partnered with Westin to place Peloton bikes in both select guest rooms and fitness centers.
Building partnerships with like-minded brands based on astute social listening helps to create a seamless, end-to-end experience for your members or customers.
3. Focus on moments that matter.
From the first time a prospective member sees our television commercial all the way through his or her 100th ride and beyond, we look for opportunities to surprise and delight. But not all moments are created equal. By mapping the end-to-end member journey, using both qualitative and quantitative inputs, we have identified key moments in which to invest differentially to make the biggest impact on engagement and retention.
For example, through both 'ride-alongs' and post-delivery survey data, we learned that bike delivery was one such moment of truth that could make or break a new member's perception of our brand. As such, we invested in building an in-house field operations team in our largest markets to deliver and service our bikes. These are highly trained Peloton employees who are equipped to deliver a high-touch, on-brand experience and won't leave the member's home until they are up and riding. It's not the most economical way to deliver a bike, but we've seen a fantastic return on this targeted investment.
4. Make it personal.
Earning reward points is, by definition, transactional. But personalized recognition offers the potential to cement long-term emotional loyalty. At Peloton, our instructors do this by giving 'shout-outs' to members celebrating birthdays and milestone rides during live rides.
We also watch and listen closely on social media for opportunities to delight members in a highly personalized way. On Facebook, a member posted that he got "Homered" since his wife is always using his bike, a bike she bought for him as a gift. He shared that she even jokingly complains when he doesn't wipe the sweat off the bike's heart rate monitor after he uses it. (If you're unfamiliar with this reference from The Simpsons, Homer once gifted a bowling ball to his wife Marge on her birthday, though Homer is the one who bowls.)
We saw the opportunity to surprise and delight this particular member by sending him a second heart rate monitor along with a handwritten note apologizing that he had been "Homered." The member snapped a photo and shared it in the original Facebook thread, thanking us for listening.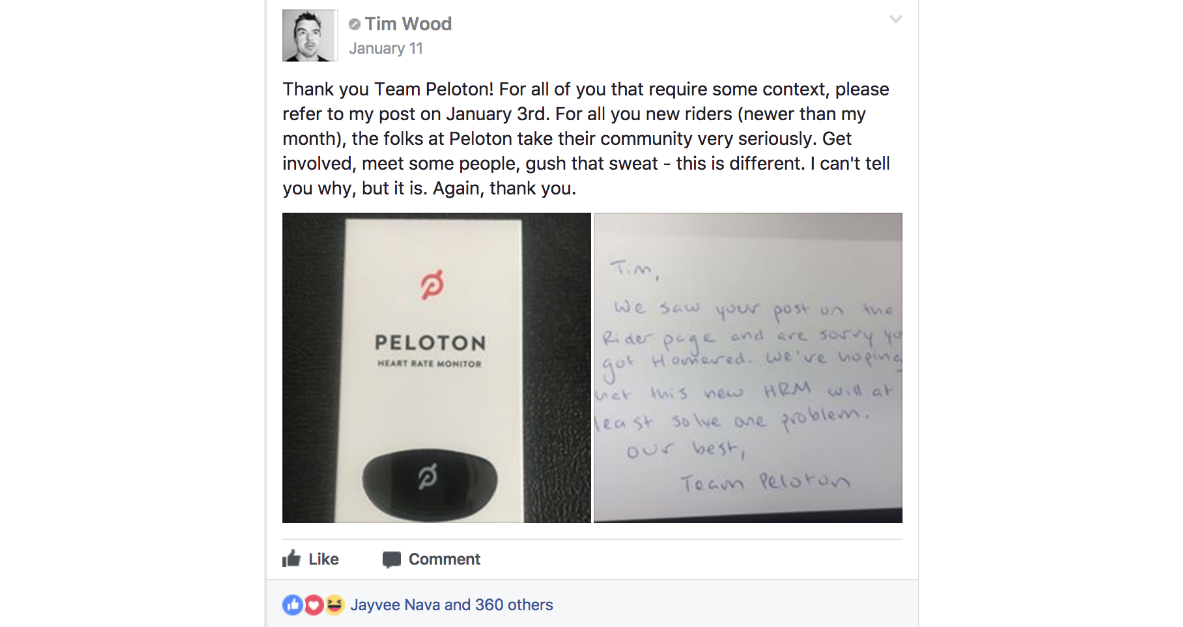 Empower your team to leverage member data and listen closely to personalize the moments that matter.
5. Harness the power of community.
From soliciting online reviews to spreading the word about new retail showrooms, find every opportunity to leverage your existing members and most vocal brand advocates.
Our community has been a great source of ideas for new product features, so much so that we've rolled out "Feature Friday" in our Facebook group. Every Friday, we invite members to share their ideas, which our product team reviews as key input to our product roadmap. One such member-generated idea was adding color-coded heart rate zones to our user interface on the bike. After launching the new feature, we posted the news and thanked our community for the valuable input. Closing the loop in this manner demonstrates that you value the feedback.
In sum, savvy consumers expect more from their favorite brands than a points-based loyalty program. They want a highly personalized, reciprocal relationship where they feel valued as members of a community.
Strive to move beyond a transactional relationship to cultivate emotional loyalty and organic brand advocacy. Trust me: you'll know it when you see it.

Thanks for sharing, Brad! Watch the full #TrueU session via Periscope.