What's Working: Scaling a Mission-Aligned Team at Handshake
By The True Team, June 26, 2018
Just a murmur of "scaling" inspires a surge of questions for startup Founders and their teams. From when to make that first human resources hire, to selecting the ideal sales and marketing tech stack, to when to standardize parental leave policies, there's a lot to consider. But what about scaling company culture and ensuring your team remains mission-aligned beyond those early days of 10-20 employees? Handshake has created a model for other startups to follow.
According to a study conducted by CultureIQ, work environment, support systems, and mission and value alignment are the company culture qualities with the greatest impact on employee satisfaction. "Culture does not have an owner and is distributed," said Handshake's Head of People and Talent Madeline Kolbe Saltzman while teaching a True University class on scaling inclusive teams.
Kolbe Saltzman joined Handshake's leadership team in 2016, the year after True Ventures invested in the company's seed round. Now nearly 100 employees strong, the Handshake team has learned effective tactics for maintaining an inclusive culture, enticing engagement, and ensuring that every team member and job candidate who walks through the door gets a clear sense for the company's mission to democratize access to opportunity. More than 9 million college students and alumni use Handshake's career network and recruiting platform to source opportunities they might not have access to otherwise.
Prior to joining Handshake, Kolbe Saltzman developed and hired talent at Google, Cadre and Tumblr, where she and her team were once tasked with hiring 40 engineers in three months. In her role at Handshake, she oversees talent recruitment, employee experience and development. She's also led the company to establish a variety of diversity and inclusivity initiatives to better align the team with Handshake's mission and values. So far, so good — 99 percent of employees are proud to work at Handshake and the team regularly scores 94 percent or higher on their monthly engagement surveys.
We interviewed Kolbe Saltzman to learn Handshake's approach to team development, designing inclusivity initiatives and what she believes are prime motivators for job candidates considering roles at startups.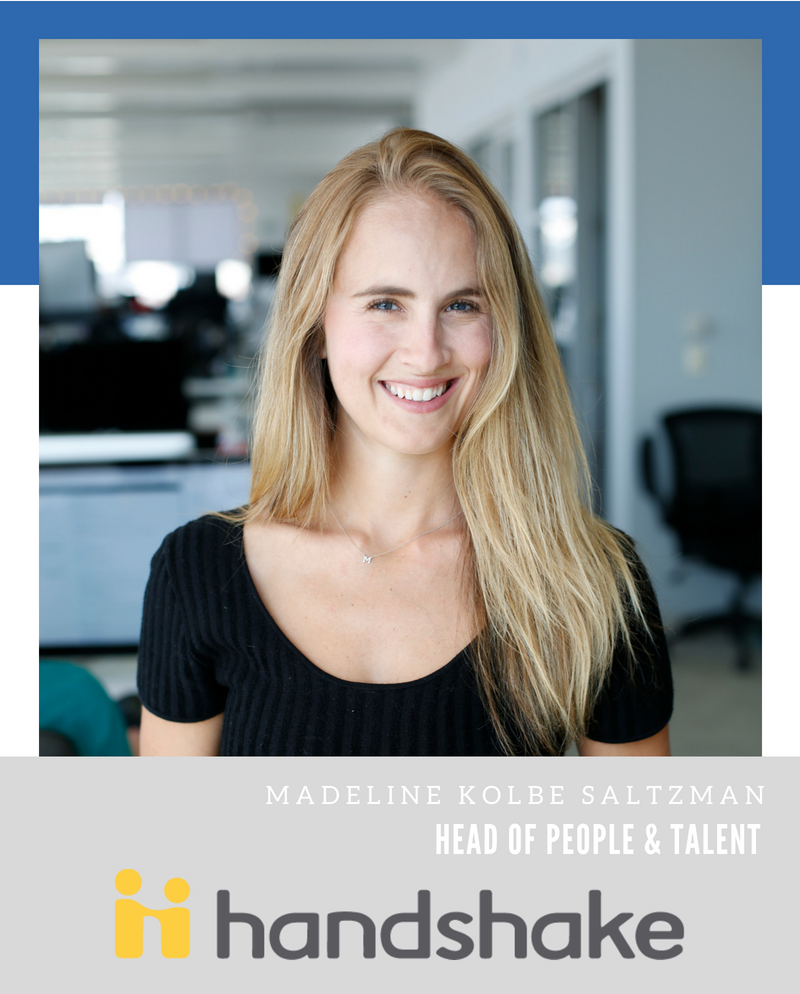 True Ventures: Why do you believe encouraging the "right" company culture is imperative when scaling a startup?
Madeline Kolbe Saltzman: Culture is everything. It's why people choose your team, your mission, your company. Building an incredible, intentional and inclusive culture is hard. It takes time, commitment and so, so much energy, but it's worth it. You have an opportunity to build a culture that people love and a team that people are proud to be a part of.
Culture is a critical component of how you can scale your company to thousands of people while staying passionate, aligned and focused. Focusing on building a strong culture also sends a strong signal that you care about people. You care about how people treat each other, how they work together and the impact they make.
True: We noticed this photo on your LinkedIn profile. Can you tell us about it?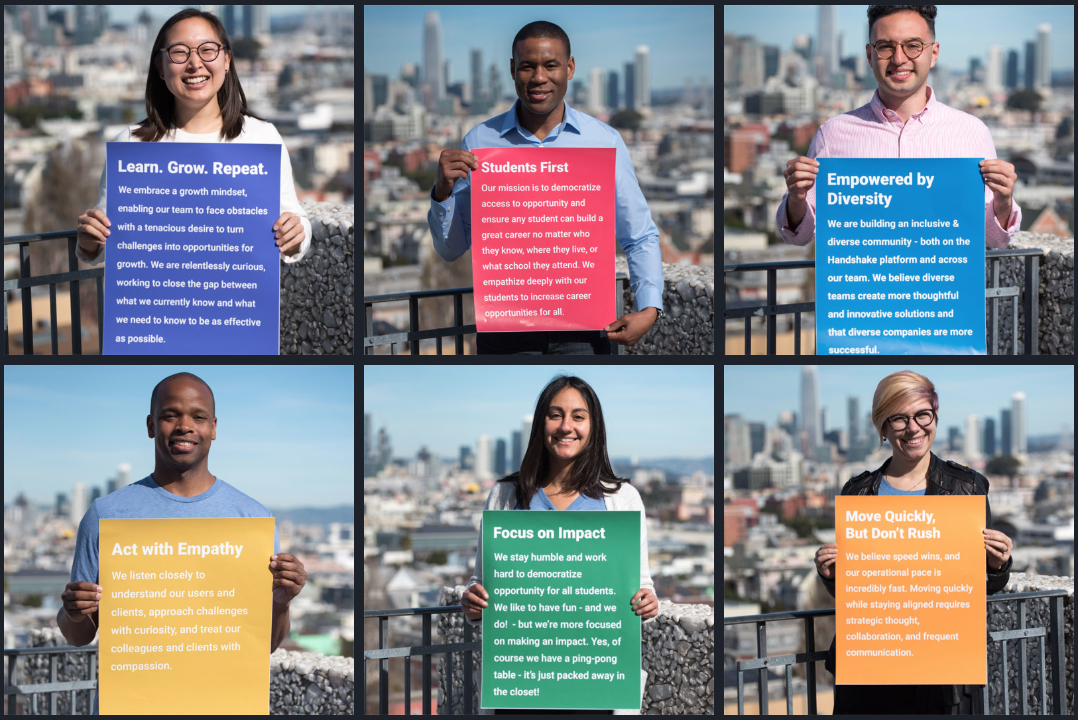 MKS: Of course! I love this photo. It's so great. We share our values in so many different ways. This is a highly visual way that we are able to share some of the faces of Team Handshake while sharing what we believe in. We strive to incorporate our beliefs and values into everything we do, from how people treat each other, how they can grow, the language we use, the impact we want to have and, always, how we can help students gain more access to opportunity.
True: What is one way you help to create an inclusive culture at Handshake?
MKS: We believe that we are a better team, a stronger culture and a more inclusive company when we intentionally create the space for people to show up as their whole, authentic selves. One of our values, "Empowered by Diversity," highlights and grounds this belief in our culture. We wanted to find a way to create not only a diverse culture, but an inclusive culture and a culture of belonging. We decided to create Employee Communities, our take on ERGs (or Employee Resource Groups), to encourage people from all backgrounds to have the opportunity to connect, have conversations and find a sense of belonging at Handshake.
Our team has really fostered these communities and brought them to life! We now have so many communities like People of Color, Immigrants at Handshake, Handshake for All, African Americans at Handshake, LGBTQ+ at Handshake and Women at Handshake, all of which promote inclusion, connection and conversation across the company.  
True: What should early-stage startups keep in mind as they build their own inclusivity initiatives?
MKS: As you scale and begin to need more processes, approach every opportunity with curiosity, empathy and awareness that everyone is unique. Every single team member has their own intersectional identity that they bring to work every single day, so talk to people!
Have conversations with individuals who don't share your background to better understand what the impact of a new initiative might be on someone who doesn't think or look like you. Try to seek out and incorporate diverse perspectives into your decision making so you're not designing processes that only work for one type of individual.
True: How does one go about measuring the quality of a company's culture?
MKS: We're huge fans of the tool Culture Amp. We use it to measure team engagement and gather feedback from the team on everything from leadership, to company confidence, people managers, team dynamics, etc. Of course, alongside using data to measure culture, you must also have conversations. Work with individuals to add qualitative stories to the data so you have the best understanding of how people are feeling about your company, culture and team.  
True: We read that you and the team renamed your conference rooms to better reflect Handshake's values. What inspired this update?
MKS: Our Office Experience Coordinator, Melissa Buckley, is intentional about creating an office space that reflects our mission, our inclusive culture and the diversity of backgrounds of the students we're working for. When we moved into the office, many of the rooms were named after local bars, and we saw an opportunity to bring our mission into the office in a very visual way.
Now, our rooms don the names of trailblazers in the education space like Mary McLeod Bethune, activist and educator; Sylvia Mendez, advocate for Hispanic student rights; and Booker T. Washington, an educator who paved the way for civil rights and the desegregation of public schools. Now, our space pays tribute to some of the individuals who paved the way before us and help us remember why we're here every day.
True: Now, let's talk recruitment. What have you found startup job candidates to be most motivated by?
MKS: In my experience, I've found individuals who want to work in the startup space to be motivated by autonomy, speed and impact. I have found the ability to turn everyone in the organization into a recruiter a key strategy for scaling teams.
Scrappy recruiting at the earliest stage means that everyone at your company should know what roles are open, how to pitch the company to potential candidates and how to connect candidates with your recruiters. Great talent is everywhere, and you have a better chance of finding it if everyone at your company is recruiting.
True: How do you appeal to candidates in competitive markets?
MKS: Recruiting is about understanding and connecting with people. I believe the best recruiting is relationship-based and intentional. It's so meaningful when you are able to take the time to get to know each person, understand their goals and be able to speak to their career dreams.
Ask what type of work culture they thrive in, what type of manager they want to work for and what impact they want to make. You can stand out by being authentic, transparent and kind. You reach individuals when you align your company's values and mission to the their personal values and goals.