What's Working: Submittable's In-Office Daycare
By The True Team, September 19, 2019
Building a startup in a small city like Missoula, Montana, has its advantages. Homeownership is more attainable, public school systems tend to see higher performance than in larger, more populated cities, and there's generally lower cost of living and greater access to outdoor spaces. 
But smaller cities face their own unique sets of challenges too. Late last year, NBC Montana reported on the lack of affordable childcare options for Missoulans. The Missoula Chamber of Commerce surveyed parents in the area to get their input on a range of possible solutions, including the use of an empty public school for childcare or opening a daycare facility within a shopping mall. Another option on the table included private employer-funded childcare facilities, which submission management platform and True portfolio company Submittable decided to pursue. 
"Our society kneecaps young parents during the stretch of their lives when they're the most broke and stressed they'll ever be from the extraordinary cost of daycare," said Submittable CEO and Co-founder Michael FitzGerald. "In Missoula, daycare can be more than $9,000 a year, which isn't that much less than what you'd pay in rent." 
After surveying Submittable's employees to see how much of the team would utilize childcare facilities if created, the company learned that 35 percent of its employees are parents and that many team members plan to have kids in the next few years. 
To the delight of the company's now 105-person team, Submittable began building the on-site daycare in early 2019 and just completed construction for the more than 2,600 square foot space this August. Children began attending the daycare this month. 
Submittable Product Manager Bracha Tenenbaum and Sales Manager Caitlin Stainken led the forge for the daycare where their sons are now enrolled. 
"The daycare was a grassroots effort," said Tenenbaum. "A few employees brought the idea to our leadership team who were immediately on board. Michael recognizes that work-life balance is key to building and maintaining a healthy and happy team. That's why a lot of tech-minded people come to Missoula in the first place."
Submittable's Bracha Tenenbaum poses with her son Abe and partner Danny. 
Before developing a plan for Submittable's daycare, the team researched other local Montana-based companies with on-site childcare facilities to garner learnings. 
"One company started with a daycare across the street in a small rental house and it became so popular among employees that they built a new office building," said Tenenbaum. "Our research led us to explore three different options: childcare in-office/on-site, childcare at a location within walking distance to the office, or a partnership with an existing daycare." The company ultimately decided to build its own on-site where parents can stay close to their kids. 
Then came planning the nuts and bolts of how the daycare would work. Submittable's daycare program is for infants up to age two and will grow with company needs. "We have a high ratio of staff members to children and emphasize play-based learning," added Tennenbaum. 
There's also a cultural element to the startup's childcare facilities. Daycare hours reflect the company's philosophy that employees have work-life balance by remaining open from 8:30 a.m. – 5:30 p.m., Monday through Friday. Submittable is unique in that it has set human-based KPIs (key performance indicators), beyond the traditional growth metrics that all companies have, to measure its success. Getting employees to a place where they can purchase a home and easing the stress of finding convenient and affordable childcare are among the company's priorities for its team members.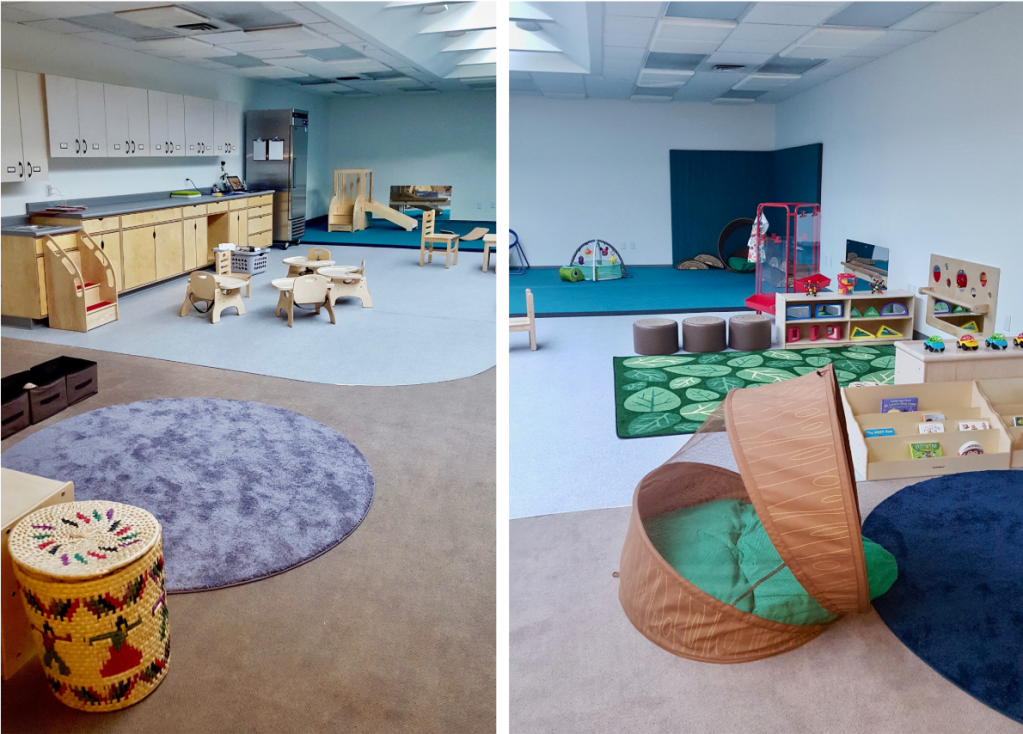 "The obvious benefits of the daycare are around employee retention and attracting talent," shares Tenenbaum. "The less obvious are harder to quantify but are equally important. We all know stress kills creativity. On-site childcare reduces pre-work and post-work driving at times when traffic is at its worst. Breastfeeding is immeasurably easier. And parents are welcome and encouraged to visit (or not visit) their children any time throughout the workday, depending on what they prefer." 
Submittable's office space has since expanded to the second floor of the historic Florence Building in downtown Missoula where the daycare now dubbed "Kid Care" resides. 
After securing its Series B financing round this summer, the company announced its plans to hire 150 new team members in Missoula by the end of 2020. If you're interested in working for a fast-growing company in Montana, Submittable is hiring in almost every department.