Best Practices for Distributed Teams: Automattic Shares All
By Madeline Kolbe Saltzman, March 13, 2020
Remote teams, distributed companies — jargon aside, the age of working from anywhere is resoundly here. The current health crisis has amplified the need for education and resource-sharing around this topic. It's prompted us all to think about how we can better support and lead efficient, engaged, and productive distributed teams, especially during times of anxiety and uncertainty.
Automattic, maker of WordPress.com and a True-backed company since 2006, is well-known for its distributed culture and founder Matt Mullenweg's ethos on how to run an effective remote workplace. Matt recently wrote about the "Remote Work Experiment No One Asked For," and shared a few ideas on how to lead your team through this especially stressful time. 
His global team of more than 1,100 "Automatticians" spanning 76 countries has contributed to the playbook for working well together, apart. Toni Schneider from our team reflected on his time helping to build Automattic before distributed work was as widespread as it is today.
"The initial Automattic employees, who were all contributors to the WordPress open source project, were already working together from far-flung places like California, Texas, and Ireland," shared Toni. "Instead of asking them to move to one location, we tried working remotely, kept hiring more people, and refined the model. Employees loved it from day one, which fueled our desire to make it scale and make the behind-the-scenes complexities as invisible as possible." 
To learn more about how founders, leaders, and all team members can actively contribute to building an engaged and high-performing distributed team, I spoke with Lori McLeese, Automattic's global head of human resources to learn more about their approach. 
Lori joined Automattic nearly 10 years ago and works from her home office in Asheville, North Carolina. She's made a conscious effort to build a global HR team, with members spanning the globe, so they can bring empathy and a diverse array of perspectives, experiences, and cultures to support the entire team. 
"I was super conscious not to build an all-American team," said Lori. "That would have been easy because of where the majority of applications came from. But Automattic is global so we knew having a global HR team was important to us — to give a reality check on HR practices in many regions." 
Lori shared hiring strategies for distributed teams, how to recreate remote "watercooler" moments, team rituals to foster connection, much-loved collaboration tools, and more.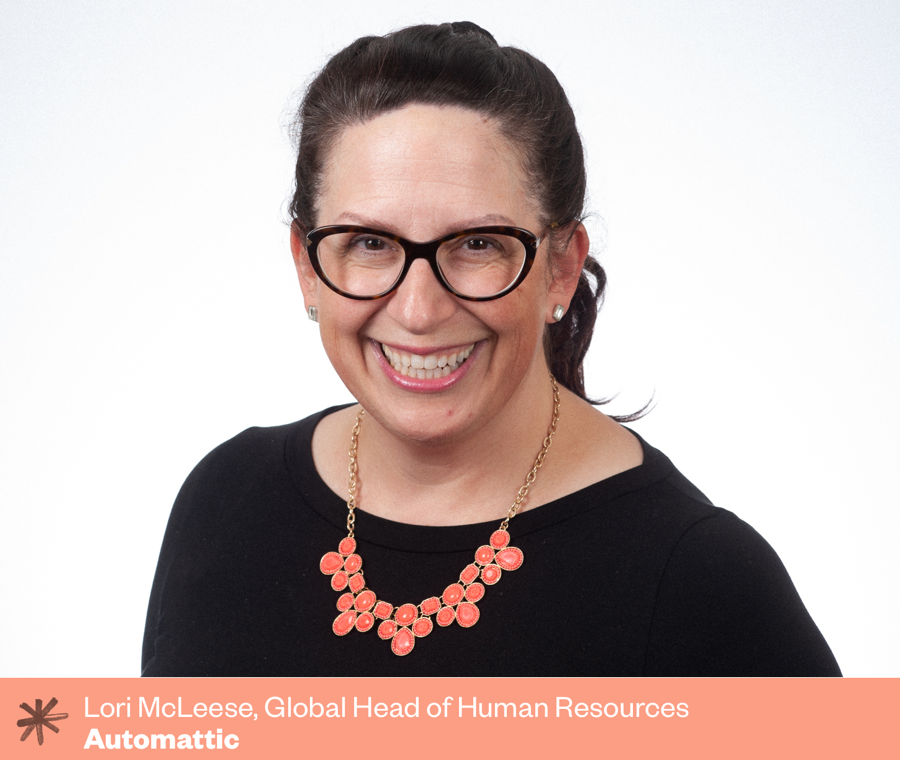 Madeline Kolbe Saltzman: You joined Automattic nearly a decade ago. Did you know you wanted to help build a distributed team? 
Lori McLeese: At the time, I was working with a great international nonprofit and wasn't really looking for something new. The more I talked with the Automattic team, the more I thought, "Can this really work? Can HR really be done in a distributed manner?" After more than nine years with the company, yes, I think it can be.
Madeline: Has Automattic always been distributed? 
Lori: We had a 14,000 square-foot office in San Francisco at one point, but only a handful of people went in regularly. It wasn't used much. The idea was to have a home base where we could host our annual Grand Meetup. But our Grand Meetup outgrew the space. 
We hosted some events there but not many and we didn't have someone based there to manage a community, so we decided we no longer needed it. Now, we have a much smaller central hub in SF that's mostly used for board meetings, investor meetings, and that type of thing. 


Madeline: We hear your annual Grand Meetup is one of a kind. Tell us about it.  
Lori: Since our team is entirely distributed, we invite all Automatticians (what we call our team members) to join together once a year for a seven-day event where we can connect in person, get inspired, and get some work done. 
We have an incredible events team who works closely with Matt to implement his vision, and each time the agenda is informed by survey feedback we collect the year prior. It's constantly changing.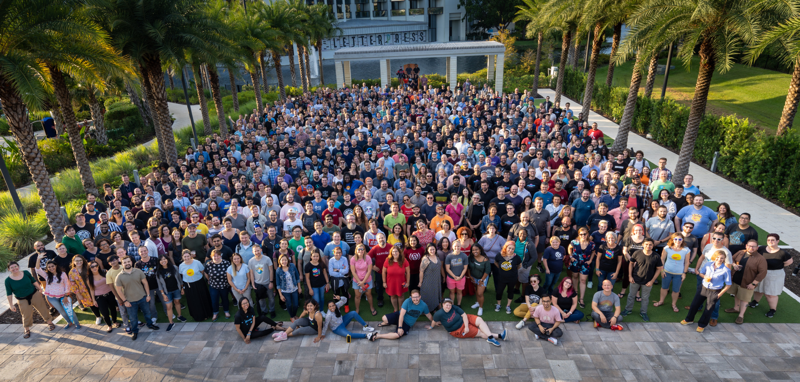 A team photo from Automattic's Grand Meetup 2019 in Orlando, Florida.
Madeline: Tell me more about what happens at the Grand Meetup. What does the agenda look like? 
Lori: Usually, Matt kicks it off by welcoming everyone. Then we start each day with a special guest speaker. We've hosted a writer and animator with decades of experience working with Pixar who spoke about telling great stories. The director of The Long Now Foundation, which is building a 10,000-year clock, talked about designing for longevity. 
Then the agenda opens up and attendees can choose their own adventure. We sometimes break into teams to work on an agreed-upon project that benefits Automatticians (rather than our users, which is what we're usually working on). 
Other times, you can choose to attend a class led by other Automatticians, like how to write a great P2 post or an intro to JavaScript for security concerns. For those who aren't familiar, P2 is the blog theme we use on our internal WordPress.com site for communicating with one another. 
Madeline: How do you support employees who are care providers and might have trouble getting away for a week? 
Lori: We use Rocketrip, a travel-planning tool that helps people plan and book trips with an opportunity to accrue points they can use for childcare, pet care, and other things that will make getting away easier. 
Madeline: Offsites can often overlook individuals who have unique accessibility needs. How does your team empower individuals with all abilities to show up and participate fully? 
Lori: Our events team is amazing and coordinates a survey prior to the event to understand dietary preferences and details like who needs to be near an elevator, who would prefer to be further away from the social suites, etcetera. They think of everything. 
For team meetups, we encourage team leads to send out a survey during the planning stage that has questions about how much downtime a person needs each day, if they're okay with photos of them being shared (internally or externally), if there's anything they would like to avoid doing, etc. The survey template is in our Field Guide (our employee handbook) and is accessible to anyone at Automattic.


Madeline: Are all of your interviews virtual? 
Lori: Yes, for the most part. Interviewing in person would almost be counterintuitive for how we work. Some teams interview in an entirely text-based way, for example, Slack interviews and code tests. 
Given the nature of HR, my team interviews via Zoom too as part of the interview process. After initial interviews on Slack, there's a skills test and then a trial period that really shows how a new team member will do remotely.
Madeline: Tell me more about the interview trial period that candidates go through. Is it paid? 
Lori: Yes, it's paid, and it's usually 10 hours a week, for two to four weeks. During the trial, it's easy to tell if someone has the right set of skills for the role they're being hired for and also for working in a distributed manner. 
During this time, we're testing how well they work with our tools and other people remotely, including how well they write, which is super important. We also look for how well they receive feedback and if they're curious. Are they a self-starter? Do they really try to learn more than just what we ask them to do? 

Madeline: What tools or services does your team love?
Lori: We use Zoom a lot, not just for meetings but for a monthly education series where both internal and external speakers are invited to speak to inspire our team. We host them live but also record them so people can access the content later. It's really popular and our team members submit the topics they want to learn about in advance to help curate our selection. 
Madeline: How do you approach benefits as a globally distributed company? 
Lori: Overall, we like to offer our team self-service tools as much as possible given that we're distributed. We use Lumity for benefits in the U.S. It's a True company too. 
We also have employment entities in Canada, the UK, Ireland, South Africa, and Australia. For those countries, we work with local benefits brokers to provide a competitive benefits package. For all Automatticians outside of those countries, we hire them as contractors, and self-fund benefits such as life insurance, professional development, co-working allowance, and home office setup.
Madeline: What about tools for team brainstorming? Digital sticky notes or whiteboards? 
Lori: We don't hesitate to use pen and paper and hold it up to our screen when we're on Zoom. Ha! From there, we'll take a screenshot of our Zoom screen if we want a snapshot. We can be scrappy about it. On a more sophisticated note, our design team finds Mural to be helpful for remote collaboration. Also, Trello – many people at Automattic like it.  
Madeline: How does Automattic measure productivity across its distributed team? 
Lori: When you think about it, most of the online tools we use to work in general are logging our work habits. Between email, P2 activity, Github, etc., you can gather a lot about what folks are working on. We have a system called mission control (MC) that covers everything in the company: how often team members are posting, where, ticket numbers. It's very transparent, but we don't actively watch over activity. 
Currently, we'd have to look and see if there is a dramatic change in interaction, but our engineers would like to build a tool that will proactively alert managers if someone isn't very engaged or if there is a sharp decline in activity. 
Madeline: How do you manage Zoom calls for very large groups? 
Lori: We ask everyone to dial in separately even if a bunch of us are in the same conference room so you can see people's faces. We have one Zoom account that can accommodate up to 500 participants and a few others that can accommodate up to 100 participants. The combination of those generally meets our needs. 
In another instance, I was in Dubai and there were 15 people in the room with me, so we set up a space where Matt was on screen at one laptop and we could go up to the laptop individually to ask questions as they arose. We don't always do that or say you have to dial in separately, but generally speaking, we try these things and it helps. 
Madeline: Automattic has a new product called Happy Tools for distributed teams. How do you use it internally?
Lori: Because Automattic was an early adopter of distributed work, many business tools we needed didn't exist, so we built them for ourselves. 
We still use Happy Tools at Automattic every day, but now it's available to anyone. One of the tools is Happy Schedule, which we've used to manage the schedules of our more than 300 customer support team members, who span nearly every timezone, while still allowing them to work whenever they want, which is almost unheard of in the CS industry.
In the next release, there will be a live chat support tool, our internal communication platform, and our team management system. Matt wrote about it here.


Madeline: How do you help to create connection and promote team building among Automatticians?
Lori: We provide a Localmattician Budget to every employee. If there's a coworker in your area you want to hang out with in person, you get a set budget to coordinate a get-together. We're very hands-off about it. Examples include a dinner with someone who lives in the same city, picnics – you name it. The goal is to create connection between people who don't normally see each other. 
Madeline: What's an example of something your team members have planned together unprompted? 
Lori: In the winter, some people organize a Secret Santa. We had 200 people from all over the world participating at one point and then there was a P2 (internal blog) thread where people shared photos of what they got. 
None of this happens in person. It's very thoughtful, however. Generally, the Secret Santa will read the gift recipient's blog to see what they like and learn about their hobbies, or reach out to their fellow team members for help finding the perfect gift. It's fun how people can get to know someone without having met them in person. I can share a few photos of what people received.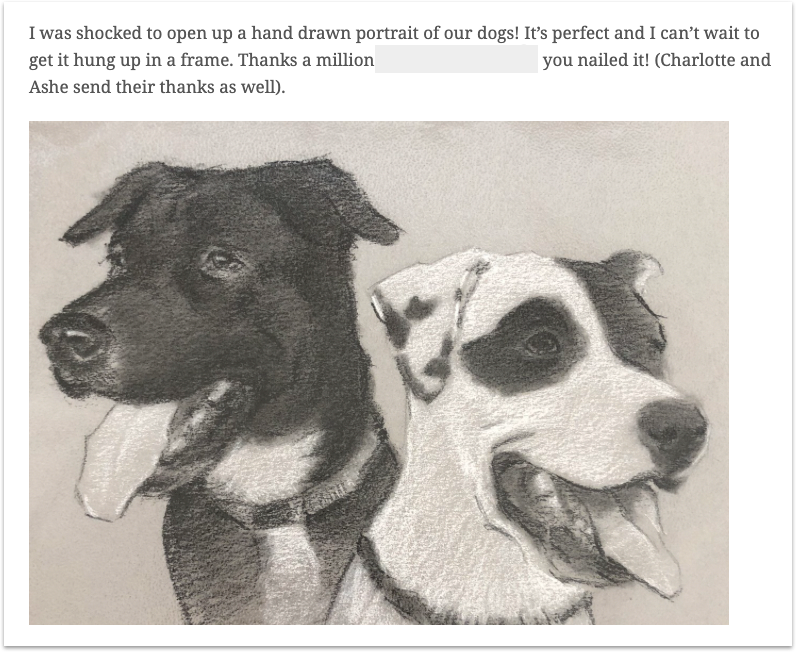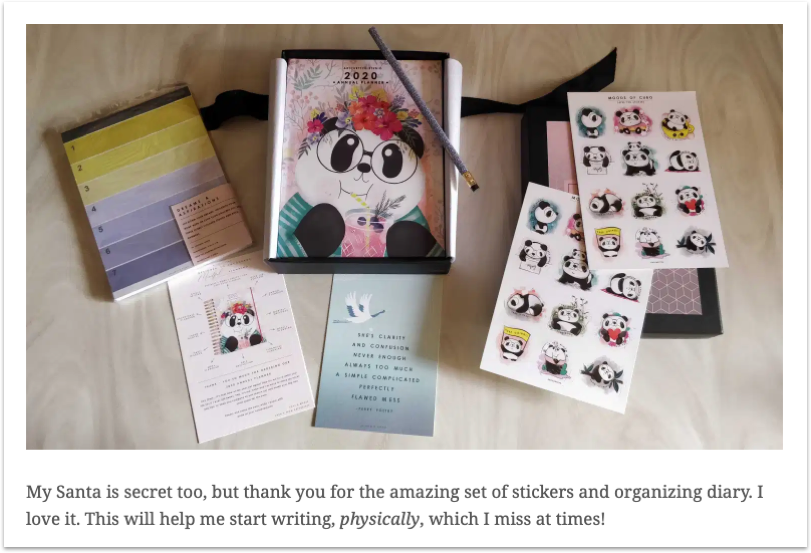 Madeline: Do you offer a budget if someone wants to use a  coworking space? 
Lori: We will provide a stipend of $250 a month toward a coworking space. We understand that this does work in some cities and regions and not in others, but it is a contribution toward a coworking space if that's what the person prefers over working from home. If people don't want to use it toward a spot, they can use it at a cafe to get drinks and snacks and use the cafe's WiFi.

Madeline: What are some of the ways you think about recreating the "watercooler" moments that tend to happen perhaps more organically at physical offices?
Lori: Foremost, most teams have both a private and a public Slack channel. The private channel is for back-and-forth banter about how we spent our weekend and that type of thing. The public channel is for people to ask questions, report bugs, share product ideas, and other things related to a specific product or feature that team is working on. Teams also post to an internal P2 (website) called "Thursday Updates" where they publish bi-weekly, high-level updates of what they've accomplished. 
There are also P2s for homeowners, pet lovers, musicians — lots of non-work topics. And people definitely get to know each other that way. 
Madeline: How do you encourage relationship-building and idea-sharing between team members? 
Lori: For distributed teams, it's really important not to wait until the next scheduled meeting to talk with teammates. I encourage everyone to be intentional about jumping in a Hangout with whoever is available if they want to brainstorm or discuss something on the fly. 
It's easy to just pick a few people and see who is available to meet at that moment for a 15-minute Zoom call. It ensures remote work doesn't block momentum. After an impromptu meeting, we encourage each other to share what was discussed in a P2 post so everything is transparent and those who weren't there can see what was discussed. 


Madeline: A lot of folks from the True community are curious to learn how you handle compensation across different regions when cost of living can vary so widely. 
Lori: We lean toward paying the same roles within the company similarly. And while we do consider the labor market of where the employee is based, it's not the driving factor dictating the compensation package we offer. It instead plays a role in our algorithms. 
Madeline: What is your process for welcoming new team members? 
Lori: Once a month, we share a post on the human resources P2, our internal HR blog, announcing everyone new who's joined, where they're based, and their role. We also include anyone who's left and the current team headcount. 
In addition, we encourage new Automatticians to post a short, 1-2 minute intro video of themselves on our "Howdy! P2" (our home for new-hire introductions). Each Automattician receives a welcome package with some fun company swag and recommended reading. 
We have a similar "Farewell" channel for when someone is leaving and wants to share a farewell message. It's pretty heartwarming to see the well wishes both for joining and departing Automatticians. 
Madeline: How does Automattic approach performance reviews and feedback? 
Lori: Instead of annual reviews, we've pushed more toward continuous feedback. It's more in line with how we work: iteratively and with a preference for real-time feedback and engagement with one another. 
We use a few internal tools for sending out questions that prompt team members to share how it's going with team leads and team members in terms of performance. Team members fill it out for their team leads and team leads fill it out for their team members. Additionally, peers can submit feedback at any time using a tool in MC (Mission Control).


Madeline: I'm inspired by how The Automattic Creed illustrates your values and provides guidance for approaching distributed work: "I will communicate as much as possible because it's the oxygen of a distributed company." Is there such a thing as too much communication for distributed teams? 
Lori: We caution new hires on following too many P2s. Instead, we suggest starting with maybe a dozen and then adding additional ones as they discover what they're interested in at Automattic. At the end of the day, it's about effort, like in any relationship. When you put the time into connecting with one another, you'll appreciate their qualities more and they'll "see" who you are as well. All of that makes for harmonious teamwork. 
For more from the team at Automattic, listen to this episode of the Foundation by True Ventures podcast where Om Malik interviews Matt Mullenweg.