London-Based Wires Glasses Launches Modular Eyewear Collection
By Tony Conrad, May 23, 2018
Every now and again we come across a brand that is so unique, we can't pass it up. (Impatient readers can skip the story and order what we're excited about here >>)
We are especially intrigued by consumer brands that second guess how things have always been done in industries that are intertwined with the lives of the masses: coffee, hair color — and now eyewear.
As of late, the eyewear industry includes a number of new brands that offer try-before-you-buy models and A-class customer support. But the eyewear itself, for the most part, is the same as it's always been: hinged frames in a few dozen kingpin styles in various colorways. Walk down any busy city street, and you'll see the same frame variations on a dozen different people.
Earlier this year, we funded a group of co-founders who are taking surprising strides in redesigning eyewear, from reimagining form to rethinking the materials used. Today, we announce our seed investment in Wires Glasses and the imaginative co-founders behind the brand: London-based designer Yair Neuman, model, actress, and entrepreneur Lily Cole, and socially conscious entrepreneur Kwame Ferreira.
Wires Glasses has created a modular collection of eyewear that can evolve as your style preferences change. Each pair is crafted with a foundational wire frame that pairs with lens rims in a variety of interesting shapes and multiple colors. The frames feature a first-of-its-kind invisible hinge mechanism that allows the arms, or temples, to fold as a result of geometry instead of a typical hinge with screws.
With a high focus on sustainable design and creative use of materials, the Wires Glasses team seeks to extend the shelf life of eyewear while offering a fashionable alternative to what's currently on the market.
By using extruded metal wires for the frames and 3D printing the lens rims, instead of cutting them out of larger sheets of material, the amount of waste created during production is minimized. The result is modern, comfortable and naturally fitted eyewear that takes on a personality of its own. When you put these on, there is an instant cool factor no matter who you are.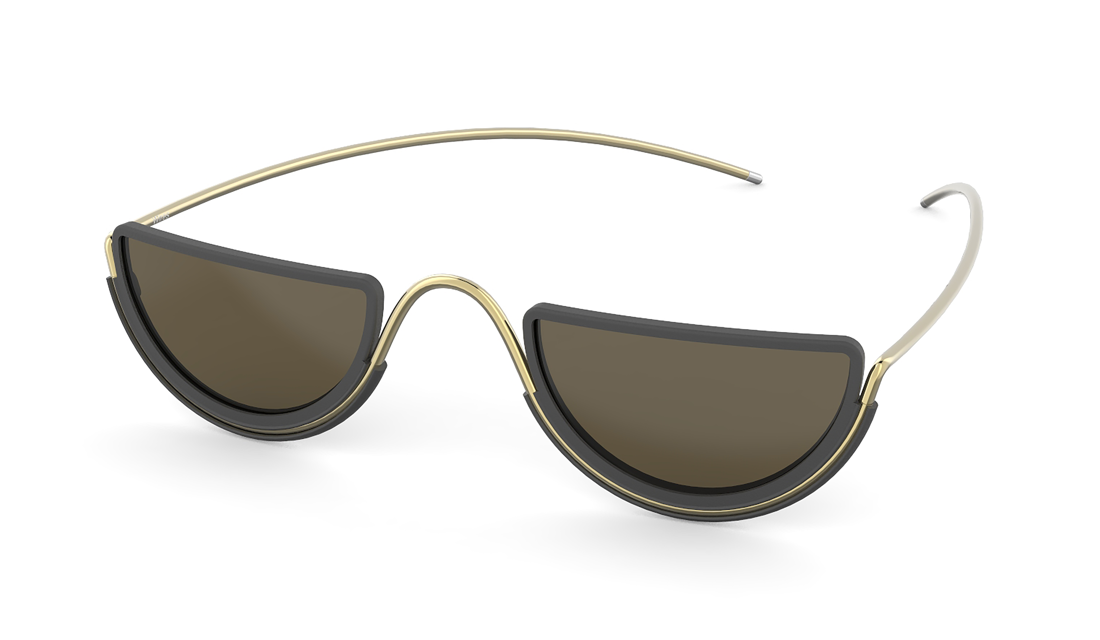 Wires' 2.0 collection, which launched officially today, is beautifully branded, to no surprise considering that Yair is the design mind at work. With his own design studio based in London, he works with unconventional materials and has caught the interest of design curators throughout Europe. African wire craft as well as Yair's passion for sustainable design inspired the Wires collection, which melds age-old artistry with modern technology.

Wires Glasses Co-Founders Yair Neuman, Lily Cole and Kwame Ferreira. Photo Credits: Caroline Jacob, Flo Kohl and Tupac Ferreira.
Lily, who is also passionate about sustainable design, is a well known actress, model, and entrepreneur with an incredible list of academic accolades including a fellowship at Harvard and an honorary doctorate from Glasgow Caledonian University. Prior to Wires, Lily co-founded activist idea incubator Impossible with Kwame, who will be leading the Wires team as CEO.
When we learned how Wires Glasses are produced, we were excited to see a team considering both the environmental and social impact of producing consumer goods. Wires Glasses are responsibly produced by a family-run business in the Italian Dolomites, a region with a long history of quality eyewear craftsmanship. That Yair, Lily and Kwame are conscious of the greater impact the business will have on the world showed us a lot about who they are and what is most important to them. We saw a match and look forward to connecting them with other B2C leaders within the True community so all can benefit from such advantageous intel sharing.
With this round of funding, the Wires team will focus on building out its ecommerce site while forging partnerships with exclusive boutiques in the U.S. and Europe.
To purchase eyewear from Wires' 2.0 collection, visit their website or follow along on Instagram.