Welcoming Streetline
By Puneet Agarwal, January 10, 2013
At True, we are big believers in the "connected web" and the "Internet of Things" (IoT). We love how this powerful movement takes cutting-edge software and wraps it in beautiful hardware packages, and connects the digital and physical worlds to create magical experiences for the consumer. True has been enamored with this space since founding our firm, and over the past six years, we have led investments in Fitbit, MakerBot, LittleBits, Sifteo, Valencell and 3D Robotics, to name a few.
Today, we are thrilled to announce our investment in Streetline, a company at the leading edge of the IoT phenomenon.
Streetline is the global leader in sensor-enabled smart parking solutions. Imagine the ability to use your iPhone to easily navigate to an open parking spot in the middle of a congested city and pay for the spot, or to make a reservation in a garage. It's magical, and yet another example of how the mobile phone is becoming more of a gateway to our everyday lives. Over the last twelve months, Streetline has deployed its smart-parking sensors in more than 30 cities (Los Angeles, New York City) and universities (Boston Univ., Clemson), including its first two European deployments in Braunschweig, Germany and Birmingham, U.K.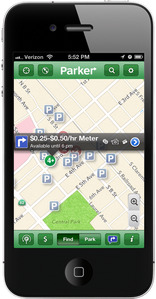 We are equally excited to be working with the Streetline team and, in particular, CEO Zia Yusuf, whom we have known for some time. We first met Zia several years ago when he was an executive at SAP, and connected with him again when he was EIR at Sutter Hill Ventures and a professor at Stanford University. Zia was looking to start a company, and after our team spent a good deal of time getting to know him and his ideas, we were excited to invest in whatever he decided to do next. He joined Streetline as CEO, and when the opportunity came for us to invest, we jumped at the chance to work with him again. We always say that we invest in people rather than companies—in this instance, we are incredibly fortunate to be working with one of our favorite people who happens to be leading a groundbreaking company.
Zia and the entire Streetline team: welcome to True!
Read more about Streetline in AllThingsD, Forbes and TechCrunch.