Welcoming Blue Bottle Coffee
By Tony Conrad, October 10, 2012
I'm an SG120 drinker.
If you know what that means, you're probably one of the cultivated, caffeinated fans making up the cultish following of Blue Bottle Coffee, a specialty coffee retailer that has been called the "Apple of coffee" and is the newest addition to the True portfolio.
Blue Bottle was founded in Oakland by Founder and CEO James Freeman in 2002. A former professional musician with a passion (bordering on obsession) for quality coffee, James has grown his company from an itinerant, artisanal coffee cart serving customers at Bay Area farmers markets to a rapidly growing business comprised of nine retail stores and kiosks in the Bay Area and New York, over 200 wholesale customers and an online direct-to-consumer business.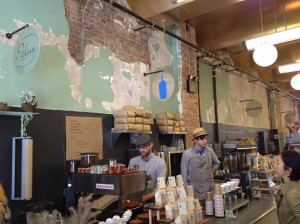 As early stage tech investors, Blue Bottle might seem like a departure from True's typical investments. But when you consider James' attention to detail, his vision and his business sense, Blue Bottle falls right in line with True's sweet spot. We love to invest in Founders of movements, and James is helping pioneer the "third wave" of coffee—a megatrend analogous to micro-brewing in the beer industry, in which consumers are moving to higher quality, artisanal micro-roasters, and where quality, beauty and a distinctive experience are being sought over more mainstream alternatives.
James reminds us of other dynamic Founders like our co-investors Matt Mullenweg (Automattic) and Evan Williams (Twitter), who have great vision and amazing attention to detail in achieving that vision. Their particular brand of brilliance is easy to see in the products, teams and communities they build. They all serve a principle role in a larger movement, and James is quickly becoming a key player in this group of visionary Founders.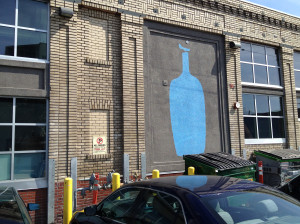 We're also pleased to announce that Bryan Meehan, a good friend and an accomplished entrepreneur, has joined Blue Bottle full-time as Executive Chairman, contributing his significant expertise to all areas of strategy, marketing and operations. Bryan previously founded, grew and sold two premium specialty retail chains that share key similarities with Blue Bottle: 1) Fresh & Wild, an organic supermarket chain acquired by Whole Foods in 2004; and 2) Nude Skincare, a luxury natural skincare company acquired by LVMH in 2011.
Getting the right syndicate in place is always a keen focus on our end. Our goal was to bring together a stellar mix of founders of technology movements, accomplished entrepreneurs and investors, and I think this is one of the best syndicates we've seen form around an investment. We're thrilled to be joined by Index Ventures (Mike Volpi), Google Ventures (Kevin Rose), Bryan Meehan (Executive Chairman), Obvious (Evan Williams and Biz Stone), Audrey Capital (Matt Mullenweg), Kevin Systrom (Instagram), Caterina Fake (Flickr), Dave Morin (Path), Philip Rosedale (SecondLife), Garrett Camp (Uber), Craig Shapiro (Quarterly.CO), Ryan Freitas (about.me), Steve Jang (Soundtracking), Hass Hassan (Whole Foods), Richard Reed and Adam Balon (Innocent Juices) and James Higa (Apple), as well as angel investors Chris Sacca, Doug Dalton, Tim Ferriss, Tony Hawk, Brad Feld, Seth Levine, Ryan McIntyre, Jason Mendelson, Brooke Hammerling and Jim Pallotta.
James, Bryan and team Blue Bottle, welcome to True. We'll take 15 SG120's to go.
P.S. Bryan, just bill me for the glassware :).