What's Working: Peloton's Retail Showroom Strategy
By True Ventures, August 29, 2018
In September of 2016, several of us from the True team joined our friends at Peloton to celebrate their opening of the company's 17th showroom. In our own backyard here in Palo Alto, we test-rode Bikes, mingled with instructors, and caught a glimpse of Peloton's newest namesake gear. By the end of this year, Peloton will have 60 showroom locations; by the end of next, more than 100, including some microstores that offer a similar experience in a more compact space.
In a lot of ways, Peloton has rewritten the playbook for how to use retail space to win over potential customers. A prospect may see a commercial for Peloton on TV and visit the Peloton website to learn more. But it's often a visit to a Peloton showroom – where the consumer can try out a Bike in person and experience the energy of the brand firsthand – that turns a purchase consideration into a surefire "yes." Other times, "the showroom acts as the point of entry for the brand experience," said Tim Shannehan, Chief Revenue Officer at Peloton.  
Companies such as Bonobos, Casper, Madison Reed, and a slew of others that have realized the power of the in-person experience and inventory-less stores have also worked permanent or roving retail showrooms into their core business strategies. It demonstrates a larger trend among the digital-first brands responsible for transforming consumers' shopping habits and turning some of the country's formerly vacant shopping centers, and what The New York Times calls "zombie malls," into resurrected retail spaces. By design, these try-before-you-buy storefronts are often the nudge that tips budding fans into the customer zone.
"Our showrooms are designed with three things in mind: sales, experience, and community," said Shannehan. "We sell by providing consumers a place to experience a variety of class content, try on apparel, interact with the Peloton Bike (and soon Peloton Tread), and more."
Shannehan, whose background spans business development, corporate partnerships, and marketing strategy, has helped lead the charge in the fitness brand's showroom strategy, which he says is about more than marketing. In addition to inspiring sales, the showrooms act as meeting places for local members looking to celebrate milestone rides, meet instructors face-to-face, and even celebrate birthdays. "These are just a few of the ways we engage with and build the local community," said Shannehan.
Here, we chat with Shannehan to get his take on what's working well at Peloton showrooms, including key learnings he and the team have unearthed along the way.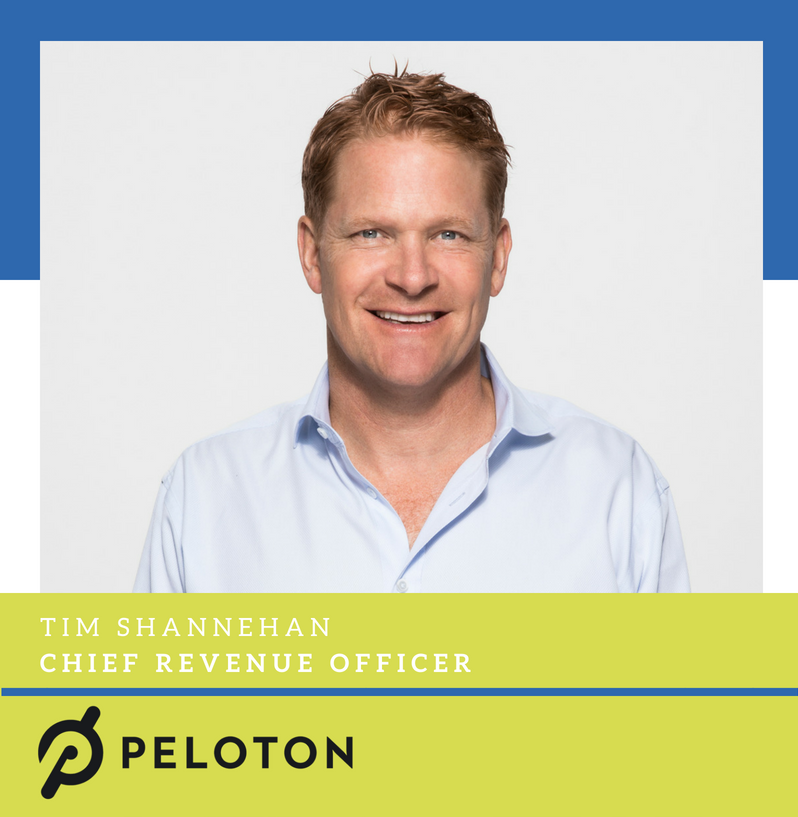 True Ventures: Where were Peloton's first few showrooms? Did they act as test sites for future retail expansion?
Tim Shannehan: Yes, our retail initiative began as a test and focused mostly on the Northeast and metro New York area specifically due to the explosion of boutique fitness in those areas. Consumers in these markets were driven to premium, motivational, instructor-led fitness classes. In the first year, we extended to D.C. and Los Angeles for exposure and learning.
We looked for strong local market leaders to run the showrooms and encouraged them to integrate into the community by hosting events, partnering with other retailers, or inviting members to ride in the showrooms. We encouraged them to think creatively about how to build the brand and sales locally and test away.  
Also, these showrooms varied in size and location mostly due to tight availability in the malls and centers we desired. This forced us to think differently about each space, but, most importantly, it allowed us to test a variety of floor setups. We tinkered with layouts on a weekly (and sometimes daily) basis. All were built with low capex (capital expenditure) and short-term leases that provided us flexibility. Looking back, this learning shaped our current growth strategy.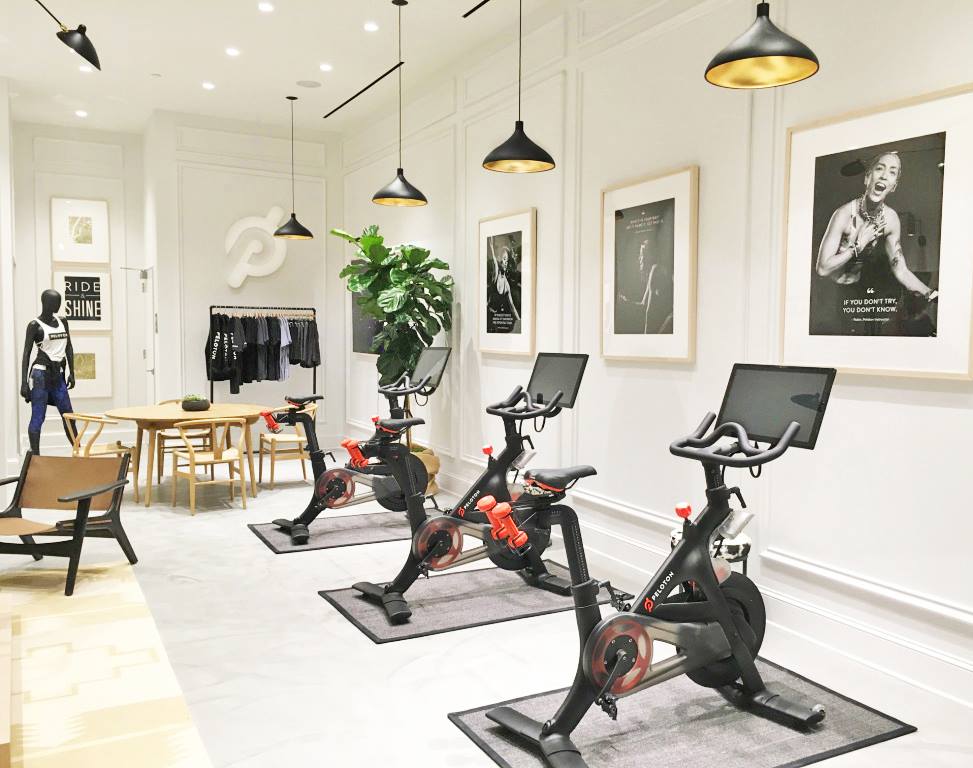 Peloton's Austin, Texas, showroom in the Domain Northside shopping mall.
True: A decade ago, we saw traditional brick-and-mortar stores upping the ante in terms of their web presence and mobile apps. Today, we're seeing a flurry of digital-first brands opening pop-up and retail stores. Talk to us about this shift.
TS: We believe there's a big advantage when you can connect the emotional and physical and do it in a way that inspires your senses. We also believe consumers expect an opportunity to test your product and envision its place in their life.
For us, the Peloton Bike experience is different than anything seen before in fitness, and product engagement was an important part of the sales process. You can view a TV ad, watch a video, or read a review — but the magic happens when you hop on a Bike, put on the headphones, lock into a class, and start riding. Enjoying that experience is very much a part of our brand.  
True: Aside from the obvious (sales), how do you measure the success of Peloton showrooms?
TS: Obviously, we care about traffic flow, lead generation, conversion, sales productivity, and same-store sales. We also appreciate the phrase "control the controllables." A successful showroom is one that has built connection to the local community, and it's upon the showrooms' teams to make it happen.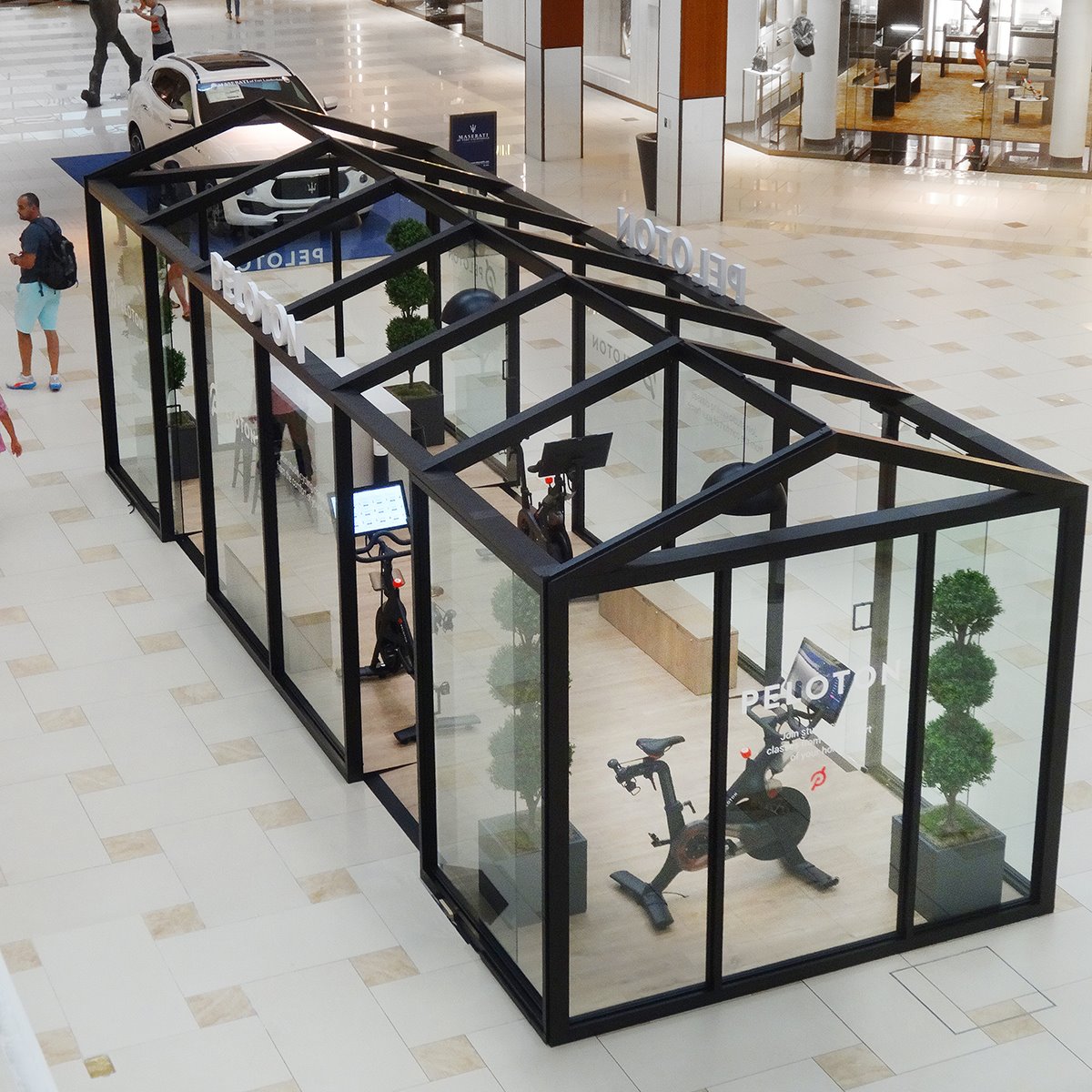 Peloton's South Florida microstore in Aventura Mall.
True: What are some of the key learnings you've unearthed as you've expanded the brand's retail strategy?
TS: Foremost, size doesn't equal more sales. Our first Century City location in Los Angeles was 350 square feet and we sold a lot of Bikes. This inspired last year's test and rollout of six microstores. Our microstores are beautifully designed, 300 square feet "glass boxes" placed in highly visible areas. You will see an additional 12 microstores later this year.  
Secondly, local launch marketing support works. We tested local "shock and awe" marketing campaigns around the opening of our Denver and Seattle showrooms. These showrooms experienced incredible first month sales and have been among the top performers since. Building an early base meant faster viral spread.  
We also learned that, despite the rumors, malls aren't dead. Top-tier malls continue to play a huge role within local communities and can be highly productive. Many are close to 100 percent occupancy.  
Temporary leases are good and bad. Short-term or temporary leases provide great flexibility and afford you the license to deliver a temp'-like design if you choose. They can also become disruptive over time and as you grow; more relocations equals exponentially more work.
Lastly, new isn't always better. New shopping centers promise beautiful design, desired brands, fantastic food, and entertainment experiences. They can also take time to become part of the local routine.  
True: Is there a sweet spot in terms of having enough showrooms to be widely known and accessible, yet few enough that the in-person brand experience is coveted?
TS: There remains a lot of open runway for us across the country. We are scaling in a few key cities and opening in new markets such as Charlotte, North Carolina; Columbus, Ohio; Nashville, Tennessee; Phoenix, Arizona; and Tampa, Florida.
Hundreds of stories have been shared of members and prospective members driving 4-5 hours to visit a showroom just to feel that connection. So, while we know many will travel, we also know time is a premium and convenience matters.  
True: Have your retail showrooms inspired a higher level of fandom, and if yes, how so?
TS: Yes! In fact, we just opened a showroom in Walnut Creek, California, and members from Los Angeles and Oregon traveled to the Bay Area just for our opening night event. They were there to meet Peloton instructor Jen Jacobs and members of the community, many of whom ride with Jen daily from their homes. It was inspiring to see such genuine connection and energy. Our community is also very good at arranging local meet-ups at our showrooms, and they turn into GREAT sales people during their visits!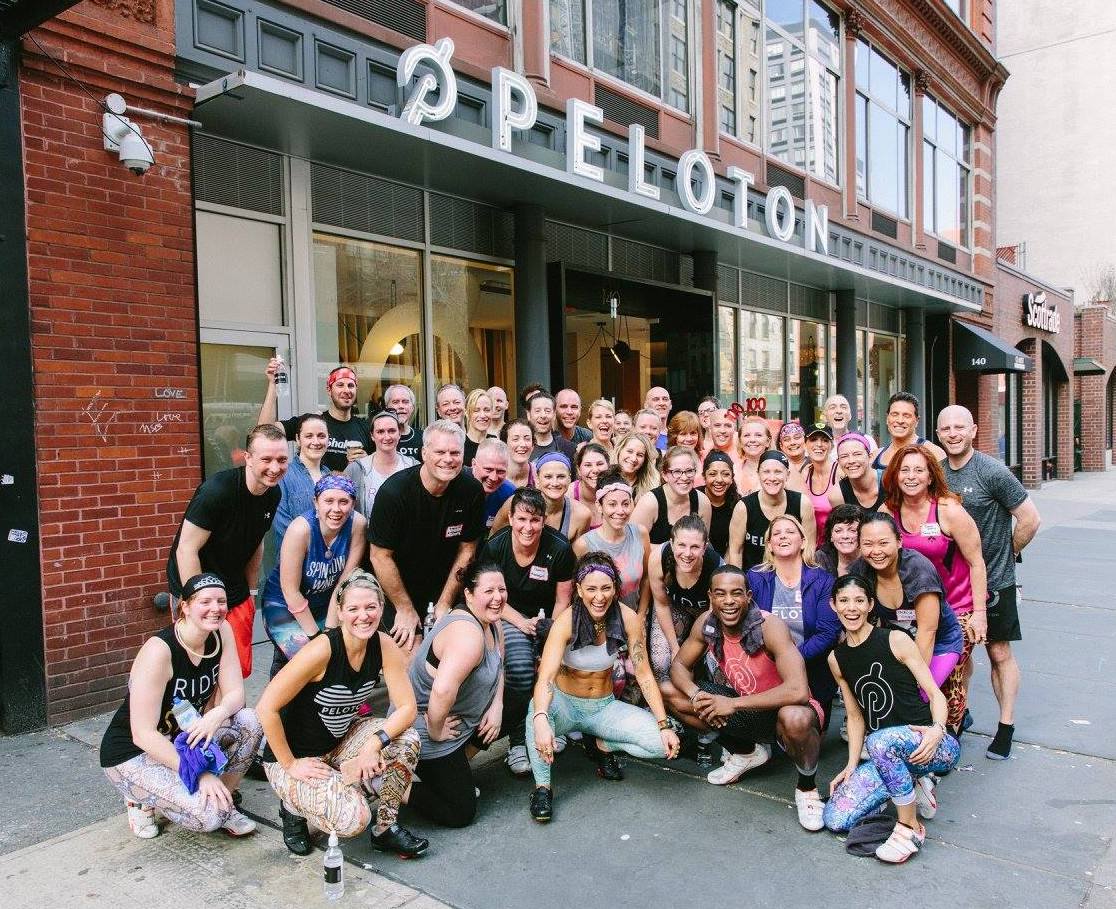 Members gather in front of Peloton's NYC Studio.
True: What's your best advice for other digital-first businesses looking to create in-person experiences for their customers?
TS: Keep it real. So much of what we refer to as "experience" is gratuitous and lacks brand and emotional connectivity. Understand your customers and build to inspire them. Oftentimes, simple is best. (By the way, we don't have it all figured out yet. We continue to learn and drive improvements.)
True: What's next for Peloton?
TS: In terms of retail, we are embarking on a project to redefine the experience and look forward to launching a new design format in 2019. Beyond retail, look for us to continue to innovate on our product (both hardware and software), expand international markets, and much more.  

True Ventures invested in Peloton in April 2015.