True Alignment: Introducing Our New Brand Identity
By Jeff Veen, June 13, 2019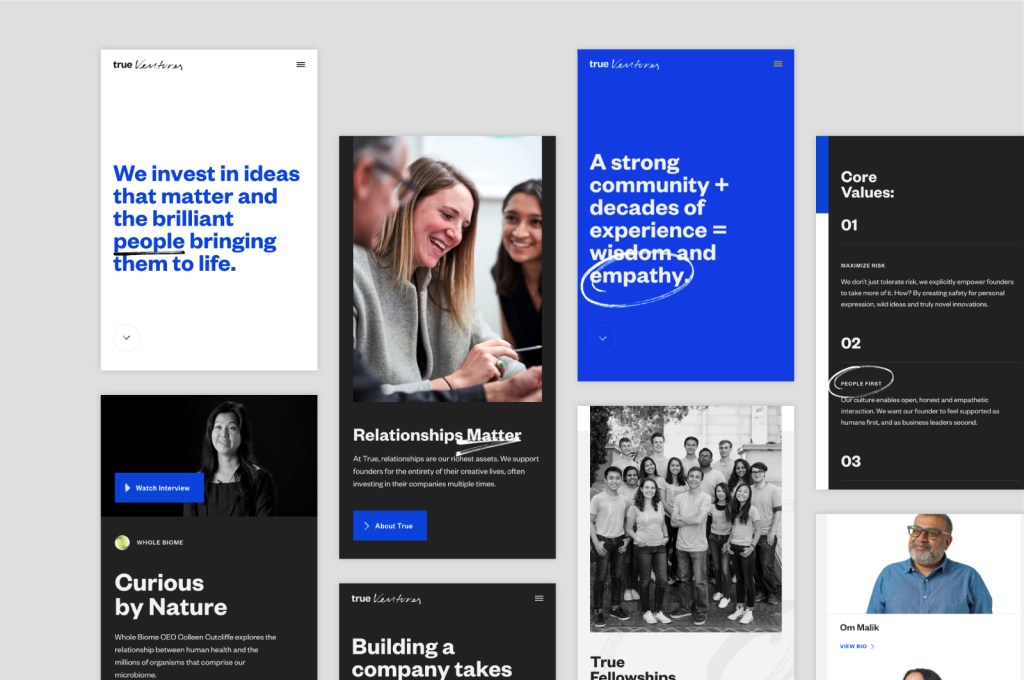 Last month, we quietly rolled out a completely redesigned website, including a new brand identity we've been working on for some time. We're thrilled with the result and would like to share how we got here.
We started this project over a year ago by asking ourselves two fundamental questions: Is the product we offer our customers still relevant? And, what's the most effective way to tell our story?
Those customers are early-stage entrepreneurs, and the product we offer is an initial investment of $1-3 million, accompanied by access to a variety of our Founder Platform events and services. Our team at True also offers deep engagement with founders and their teams.
The best way to answer the questions we posed, of course, was to ask those customers directly. We did this through a careful ethnographic process led by the talented researchers at Hustlers & Hellions. We interviewed dozens of founders, both in the True portfolio and not, including a few entrepreneurs who turned us down. We took what they told us and built a database of findings filled with verbatim quotes that served as guideposts to our thinking in how to best tell our story.
We saw clear patterns in the data. The founders talked about access — access to capital and access to True's network. But underlying all of that was the power of support through the first few years of chaos in a startup's life.
Success, they said, is not a straight line. There are inflection points along the way that make or break a team's outcome. These crucial decisions are myriad: their choice of investors early on, who sits on their board, the hiring of their leadership team, and unexpected challenges like lawsuits or competitor behavior. Where can they turn in these moments? Who can they trust? Where do they feel safe?
With this deeper understanding of our customers, we partnered with an exceptional creative agency called Ueno. With them, we crafted a set of core beliefs that guided the development of a redesigned brand system and new focus for our website.
Focus on People
Our culture enables open and honest interaction. We want founders to feel supported as humans first, and as business leaders second.
Maximize Risk
We explicitly empower founders to take more risk by creating a safe space for personal expression, wild ideas, and truly novel innovations.
Alignment
To "true" a wheel means to bring all elements into alignment, a balanced circle. This concept ensures we invest in founders with whom we're aligned on mission, meaning, and the belief that entrepreneurship can and should make the world a better place.
Our brand now represents our belief in the power of emotional intelligence and its pivotal role in relationships: relationships between us and founders, founders and their teams, and teams and their customers. Through these relationships, we strive to create an environment where everyone feels safe to be their whole selves, to take creative risks without fear, and to build the best products and services they can.
Ultimately, founders are our most important evangelists and influencers. It is from our connections to them that we find our inspiration and learn so much about our changing world. And it is through them that we are connected to the next generation of amazing entrepreneurs. That was our motivation to create a brand and platform to help us tell their stories, and ours.