Hacking Weather
By Puneet Agarwal, April 30, 2014
In weather, data is king. $485 billion of the U.S. economy fluctuates with weather events, and the data provided by weather sensors informs huge industries like insurance, agriculture, broadcast, risk mitigation, consumer and utilities.
There is just one problem: current weather data isn't all that good.
Traditional, radar-enabled weather centers collect data by analyzing conditions observed in the atmosphere; NOAA provides data resolution at 10km. A marked improvement, The Climate Corporation (recently acquired by Monsanto for $930 million) provides data resolution at 1km. But these collection methods still take place far above the surface of the earth, where the risk to life and property is greatest. What if we could get closer?
Enter Understory, a company leading the next generation of big data by combining proprietary sensors with incredibly accurate weather data gathered directly at the earth's surface. Understory—named for the area in a rainforest beneath the forest canopy—has developed a sensor that mounts to existing infrastructure, such as cellular towers, and detects rain, hail, wind and other weather events. This "ground-truth" -based detection provides data resolution at 100m, providing real time datasets and graphical views of the movement and intensity of weather events, leading to better insight and early detection of risks.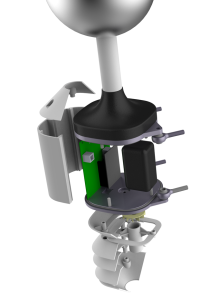 With a multi-billion-dollar market opportunity completely driven by the amount and quality of data, Understory has created an entirely new data set that is more granular and more powerful than we have ever seen before. Their first customer will be American Family Insurance, and Understory's sensors will initially deploy in the Kansas City, MO metropolitan market, chosen for its frequent severe weather events resulting in significant property damage claims. It's an incredible beginning for a team that met not too long ago at the University of Wisconsin-Madison and recently spent a year at Bolt.io, a hardware-focused, seed-stage incubator in Boston.
Alex Kubicek, CEO, is the world's foremost expert on hail, and received his master's degree in atmospheric science a little over a year ago while studying cloud microphysics. During his research, Alex built hail models that proved theories that have been around for years and won awards for his hail growth models. Alex "Jake" Jacobs received his master's degree from the University of Arizona where he studied electrical engineering. There, Jake built USVs (robotic boats) that were sent into hurricanes in the Atlantic Ocean and took measurements in the eye of the storms. And Bryan Dow received his master's degree from the University of Wisconsin-Madison in Mechanical Engineering. Bryan studied power electronic sensing by building a motor that sensed its own current and regulated power by manipulating magnetic fields.
Alex, Jake and Bryan comprise an incredible team with the expertise to build a next-generation, sensor-based big data company—and a team that is well poised to join other True portfolio companies (Madison Reed, Makerbot, Soundhawk, 3D Robotics) in disrupting mammoth industries.
Thank you to our friends at Bolt.io for introducing us to Understory. And welcome, Alex, Jake and Bryan, to True!
Read more about Understory in TechCrunch and Xconomy.