Congratulating the Duo Security Team
By Puneet Agarwal, August 2, 2018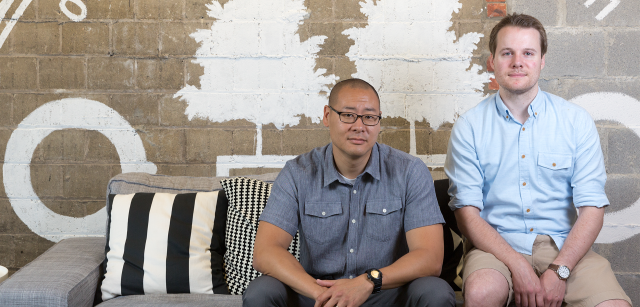 It was a hot August day in Ann Arbor, Michigan, when we first met Duo Security co-founders Dug Song and Jon Oberheide eight years ago. They didn't have an office yet, so we met in the computer science department at University of Michigan. They were so appreciative we flew out. After all, it was 2010 and many venture firms were hesitant to invest outside of the Valley.
Their pitch at the time? Democratize security in a perimeter-less world and build the most loved company in cyber security. That vision excited us then and eventually became a reality, exceeding our wildest expectations.
Needless to say, we were blown away by the team and their vision. We immediately led their seed round with a $700,000 check, and our confidence in them continued to grow as we witnessed their early execution. We were honored to join the Duo board and continued to back the company in every follow-on financing round thereafter, including their most recent growth round.
After an amazing ride, we are incredibly proud to congratulate Dug, Jono, and the entire Duo team on their successful and industry-defining acquisition by Cisco for $2.35 billion. The acquisition is expected to close officially pending final regulatory approval.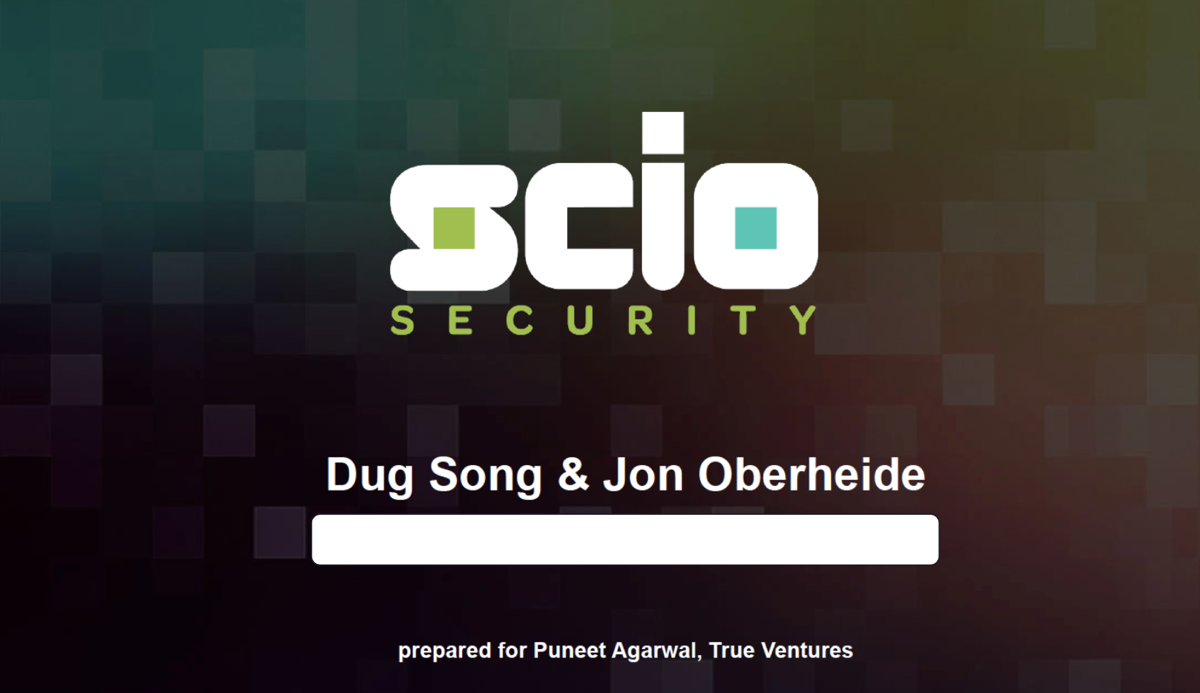 The cover slide of the pitch deck Dug sent us eight years ago. Back then, Duo was called "Scio Security."
Start Small, But Don't Think Small
Since the beginning, one of our core beliefs at True has been: "Start small, but don't think small." Duo is the embodiment of this philosophy. Eight years almost to the day of our initial investment, the company now has hundreds of employees and offices all over the world. Duo has become one of the fastest growing SaaS companies in history all while changing the security landscape for the better. More importantly, Dug and Jono accomplished all of this while never wavering from their core values.
Building an Enduring Culture
The numbers clearly speak for themselves, but what most stands out for us is the incredible culture of learning, innovation, customer empathy, giving, diversity, and integrity that Dug and Jono have built. Dug always talked about building an enduring company from the beginning with culture at the foundation, and he clearly delivered on that vision.
At their annual sales kick-off a couple of years ago, I observed a Duo tradition where employees thank each other across departments for support they received throughout the year. The line of people ready to speak was out the door. The room was rich with emotion, full of deep, heartfelt thank-yous, and indicative of the kind of company Duo has become. It's something I will never forget.

Over the past eight years, Dug, Jono, and many on their team members have also been important contributors to the True community through our Founder List, Founder Camps, and True University. They are always giving back and serving as valuable mentors. We are deeply thankful for their support, as is our community.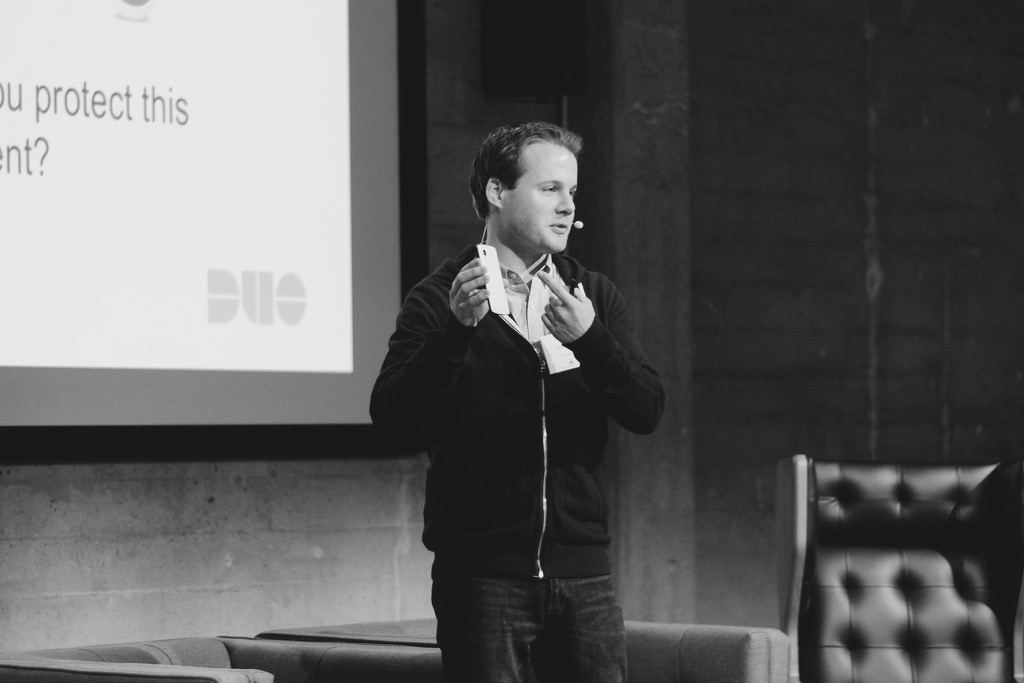 Jono speaking at our True Infrastructure Summit in 2014.
I (at left) talk shop with Dug (at right) at a fireside chat hosted by Duo in Ann Arbor, Michigan, in 2017.

Congrats again to the amazing team at Duo, and a sincere thank you from all of us at True. We are truly honored to have been a part of your journey and look forward to the next chapter ahead!